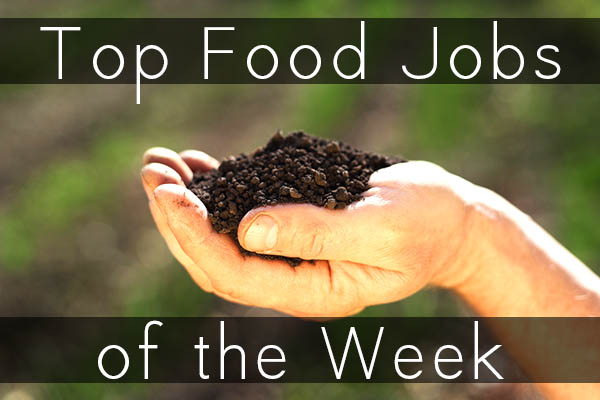 It's time again for our weekly sustainable food jobs series in partnership with our sister site: Green Job Post. Every week, we share some select food job listings in this space. The site has listings for more food jobs, and there's a great section of sustainable food jobs, if you'd like to browse more listings.
Top Sustainable Food Jobs of the Week
---
1. Mobile Farmers Market Manager: Fresh Approach – Do you have a passion for bringing locally grown produce to our food desert communities in the Bay Area where fresh, quality produce is not accessible? If so, you may be just the right fit for a position open immediately for a Mobile Farmers' Market Manager to operate the Freshest Cargo Farmers' Market on wheels at communities in Contra Costa County.
2. Associate Product Manager: Hampton Creek – Your job is to support bringing an amazing product to market, which leverages our unique R&D technology in a margin-enhancing way. You're a utility player who thrives on working cross-functionally and wearing multiple hats.
3. Communications & Social Media Manager: Nutiva – Reporting to the Director of Marketing, the Communications & Social Media Manager oversees the planning, development and execution of public relations, social media, and content marketing campaigns to promote Nutiva's products. This role manages all marketing communications, employing strategies to maintain a positive image of the company, and to create market-wide brand awareness.
4. Regional Sales Manager, New England: Purity Organics – Purity.Organic, a rapidly growing beverage company is seeking a passionate, motivated, entrepreneurial person to join our team in the New England Area. Purity.Organic bottles and sells organic juices, teas, and coconut water throughout the country. We are a young and thriving company and the Region Sales Manager has an opportunity to make a significant impact while managing a team of sales professionals. We encourage experienced sales managers, college graduates and applicants in the Boston or surrounding area to apply.
5. Direct Store Delivery Representative: Equal Exchange – Equal Exchange is a fair trade organization and coffee roaster headquartered in West Bridgewater, MA. Founded in 1986, our mission is to create more fair trade relationships between farmers and consumers. We bypass the conventional marketing system by cutting out middlemen and buying directly from farmer cooperatives. This position is responsible for Direct Store Deliveries and warehouse duties in the Seattle market and goals and regional office support as determined by supervisor.
Keep up with the latest sustainable food jobs by subscribing to the Eat Drink Better newsletter or to the Sustainable Food Jobs newsletter!
Image Credit: Soil image via Shutterstock