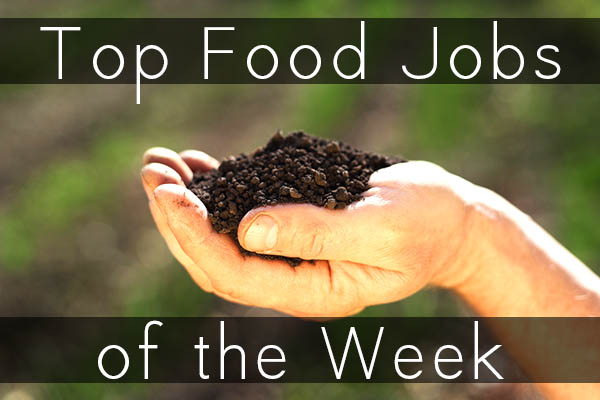 It's time again for our weekly sustainable food jobs series in partnership with our sister site: Green Job Post. Every week, we share some select food job listings in this space. The site has listings for more food jobs, and there's a great section of sustainable food jobs, if you'd like to browse more listings.
Top Sustainable Food Jobs of the Week
---
1. Equal Exchange Customer Service  – The Equal Exchange Customer Service Department is seeking a Customer Service Representative to serve our customers in schools, congregations and faith-based organizations, and assist with serving Sales Department customers as well. We are looking for motivated candidates with strong communication and problem-solving skills, excellent attention to detail, and the ability to work well with others. Previous customer service experience preferred. This is a full-time hourly position out of Canton, MA office. Equal Exchange is a worker-owned cooperative and an equal opportunity employer. Equal Exchange is a Fair Trade organization and coffee roaster. Founded in 1986, our mission is to create more Fair Trade relationships between farmers and consumers, Equal Exchange bypasses the conventional marketing system by cutting out middlemen and buying directly from farmer cooperatives.
2. Farm Manager: Marigold Hill Organics – We're seeking a farm manager for the 2016 season starting ASAP and running through November. The position would require 50 hours per week with additional hours possible but not to exceed 60 hours per week during the busiest parts of the season. Salary commensurate with experience. Qualified applicants will have experience in and a strong working knowledge of current systems and efficiencies common to small scale organic vegetable production and packing. Three to four years previous experience from at least two farms with some management experience would be ideal.
3. Human Rights Investigator: Fair Food Standards Council – Investigators conduct audits of participating growers' operations, including detailed interviews of field workers, supervisors, and management. Payroll reviews are conducted, in addition to monitoring the distribution of Fair Food Premium bonus payments to workers. Investigators also receive and investigate complaints from workers through a 24-hour confidential hotline. Working in teams, and together with the Executive Director, Investigators play a key role in drafting audit reports, investigating and resolving complaints, and designing corrective action plans. FFSC is based in Sarasota, FL, with work-related travel throughout the Southeast and Mid-Atlantic. Salary and benefits are competitive within the non-profit sector.
4. Regional Sales Manager, New England: Purity Organics – Purity.Organic, a rapidly growing beverage company is seeking a passionate, motivated, entrepreneurial person to join our team in the New England Area. Purity.Organic bottles and sells organic juices, teas, and coconut water throughout the country. We are a young and thriving company and the Region Sales Manager has an opportunity to make a significant impact while managing a team of sales professionals. We encourage experienced sales managers, college graduates and applicants in the Boston or surrounding area to apply.
5. Associate Product Manager: Hampton Creek – What would it look like if we started over? That's the question that fuels all of us at Hampton Creek. We started this company because we deeply believe that eating well should be easy. The right thing, for our bodies and for the world, should be affordable. And it should be unthinkably, mouthwateringly delicious. We've built a movement, and the fastest-growing food company on earth, around that philosophy. Your job is to support bringing an amazing product to market, which leverages our unique R&D technology in a margin-enhancing way. You're a utility player who thrives on working cross-functionally and wearing multiple hats.
---
If you're looking to post a job and want to help make Green Job Post a better site, we'd be grateful if you could take two minutes to fill out our survey. We're offering three free Basic listings as a thank you (code is given at the end of the survey). Thanks from the Green Jobs team!
Keep up with the latest sustainable food jobs by subscribing to the Eat Drink Better newsletter or to the Sustainable Food Jobs newsletter!
Image Credit: Soil image via Shutterstock