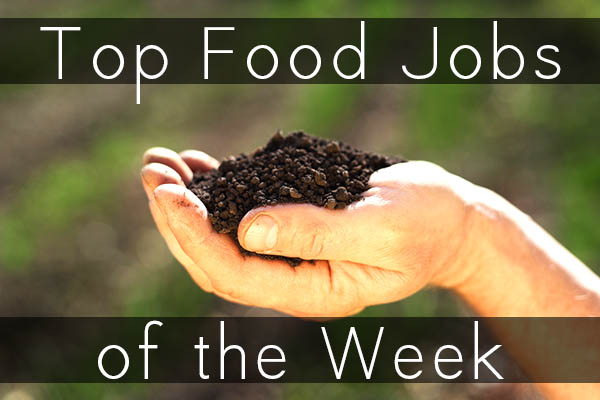 It's time again for our weekly sustainable food jobs series in partnership with our sister site: Green Job Post. Every week, we share some select food job listings in this space. The site has listings for more food jobs, and there's a great section of sustainable food jobs, if you'd like to browse more listings.
Top Sustainable Food Jobs of the Week
---
1. Operations Manager: Local Food Hub – The Operations Manager oversees all warehouse functions at Local Food Hub, including managing staff, creating and implementing systems and protocols, making sure all infrastructure is in good working order, and ensuring compliance with all food safety and transportation regulations. The Operations Manager is expected to understand and fill in for all warehouse and distribution functions as needed. Excellent interpersonal and organizational skills, as well as warehouse and produce experience, are required for this position. The position is based at the Local Food Hub warehouse in Ivy, Virginia.
2. Vegetarian Chef & Meal Manager: Global Youth Village – Manage overall meal production for Global Youth Village residents and guests, working with two other staff  while preparing well rounded, satisfying vegetarian meals for the teenage palate. Oversee and maintain kitchen sanitation, health and safety procedures.
3. Seed-to-Plate Nutrition Education Program Coordinator: Recipe for Success Foundation – The Seed-to-Plate Nutrition Education™ Program Coordinator is an inspired leader who is committed to excellence for the benefit of all participating stakeholders, school partners, instructors, and students. With drive and an entrepreneurial spirit, this passionate and experienced educator manages and executes operational aspects of the national nutrition education program including business planning and awareness building, communications and logistics, strategic relationships and expansion, and evaluation and curriculum development.
4. Marketing Projects Coordinator: High Mowing Seeds – The Marketing Projects Coordinator is responsible for managing multiple large projects and campaigns, including the production of our retail and wholesale catalogs, and overseeing several key marketing channels including our website (content), advertising, SEO, direct mail, PR and partnerships. As part of a collaborative marketing team, s/he will be directly involved in executing on various components of marketing projects as well.
5. Digital Marketing Manager: Colavita USA – The Digital Marketing Manager will be joining a fast-paced marketing team and will be responsible for the growth and management of an expanding and robust social media and email marketing platforms, encompassing a large brand portfolio of food products. The candidate will take charge in growing the brand's digital audience across multiple channels and participate in the overall optimization of the brand in the digital space, including full responsibility for digital content management and development strategy. We are looking for a candidate with a background in food/passion for the food industry.
---
If you're looking to post a job and want to help make Green Job Post a better site, we'd be grateful if you could take two minutes to fill out our survey. We're offering three free Basic listings as a thank you (code is given at the end of the survey). Thanks from the Green Jobs team!
Keep up with the latest sustainable food jobs by subscribing to the Eat Drink Better newsletter or to the Sustainable Food Jobs newsletter!
Image Credit: Soil image via Shutterstock