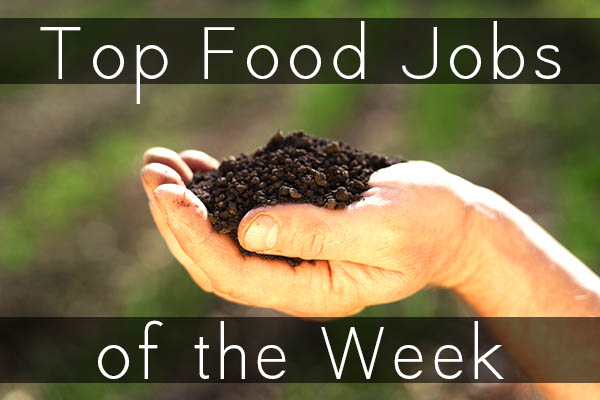 It's time again for our weekly sustainable food jobs series in partnership with our sister site: Green Job Post. Every week, we share some select food job listings in this space. The site has listings for more food jobs, and there's a great section of sustainable food jobs, if you'd like to browse more listings.
Top Sustainable Food Jobs of the Week
---
1. Senior Product Manager: Barnraiser – The Senior Product Manager will own the strategy, road map and execution of the Barnraiser platform and community, including setting priority and new features development as our website and mobile product evolves.   The ideal candidate will possess a unique blend of business and technical savvy, strategic thinking and tactical execution.
Related: Want a more sustainable food system? Start with Barnraiser
2. Lead Grower, Growing Manager: AeroFarms – AeroFarms is building a brand new state-of-the-art facility in Newark, NJ to serve the NY Metro area. The facility will be the world's largest indoor vertical farm for leafy greens and herbs. To support substantial interest from national retailers, AeroFarms also plans a significant scaling of the business, including facilities in other cities and countries in the near future. The company is dedicated to enabling local production at a commercial scale in markets throughout the world.
3. Organic Pest Prevention Steward & Lead Harvester: City Fruit -During the spring, City Fruit is offering organic pest prevention services to tree owners throughout the city of Seattle. City Fruit does not support the use of sprays. As such, our current pest prevention methods require placing a physical barrier between the fruit and potential pests. This will look come in the form of either placing an entire net over a tree or by bagging individual pieces of fruit. The steward will also be asked to do some light fruit thinning during this time as well. City Fruit's Harvest Manager will provide training and support for the position.
4. Youthmarket Manager/Driver: GrowNYC – Youthmarket Manager/Driver Position: GrowNYC seeks highly organized, self-motivated, outgoing early-risers to manage 2-3 youth-run farm stands in NYC. Reporting to the Youthmarket Program Coordinator, the Youthmarket Manager/Driver will set up and take down farm stands, oversee merchandising and sales, supervise youth and conduct at-market lessons and activities about the produce sold at the market, healthy eating, and small business skills. The Youthmarket Manager/Driver will also have scheduled office hours to deposit market income and submit all financial paperwork for their markets to the Program Coordinator.
5. Marketing Projects Coordinator: High Mowing Seeds – The Marketing Projects Coordinator is responsible for managing multiple large projects and campaigns, including the production of our retail and wholesale catalogs, and overseeing several key marketing channels including our website (content), advertising, SEO, direct mail, PR and partnerships. As part of a collaborative marketing team, s/he will be directly involved in executing on various components of marketing projects as well.
---
If you're looking to post a job and want to help make Green Job Post a better site, we'd be grateful if you could take two minutes to fill out our survey. We're offering three free Basic listings as a thank you (code is given at the end of the survey). Thanks from the Green Jobs team!
Keep up with the latest sustainable food jobs by subscribing to the Eat Drink Better newsletter or to the Sustainable Food Jobs newsletter!
Image Credit: Soil image via Shutterstock