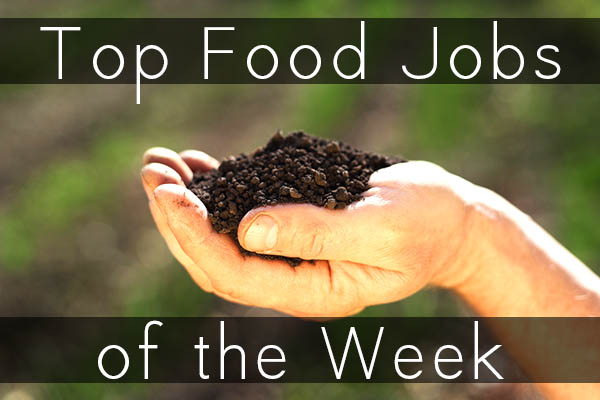 It's time again for our weekly sustainable food jobs series in partnership with our sister site: Green Job Post. Every week, we share some select food job listings in this space. The site has listings for more food jobs, and there's a great section of sustainable food jobs, if you'd like to browse more listings.
Top Sustainable Food Jobs of the Week
---
1. Farm & Garden Weekend Staff: Esalen Institute – The Esalen Farm & Garden has been providing fresh, organically grown fruits and vegetables for the Esalen Institute Kitchen for over forty years. The Farm & Garden is part of the Esalen Institute, a workshop and retreat center in Big Sur with a population of roughly 150 staff and 150 workshop participants. Running a Farm and Garden is a 7-day per week operation.  Plants need to be watered, pests need to be controlled, kitchen inventory needs checking, food waste needs to be transported from the kitchen to the compost system, etc.  The Farm and Garden requires a qualified Weekend Staff person who can attend to the essential tasks and chores, and give the staff/apprentices the weekend break they need.
2. Youthmarket Manager/Driver: GrowNYC – GrowNYC seeks highly organized, self-motivated, outgoing early-risers to manage 2-3 youth-run farm stands in NYC. Reporting to the Youthmarket Program Coordinator, the Youthmarket Manager/Driver will set up and take down farm stands, oversee merchandising and sales, supervise youth and conduct at-market lessons and activities about the produce sold at the market, healthy eating, and small business skills. The Youthmarket Manager/Driver will also have scheduled office hours to deposit market income and submit all financial paperwork for their markets to the Program Coordinator.
3. Organic Pest Prevention Steward & Lead Harvester: City Fruit – During the spring, City Fruit is offering organic pest prevention services to tree owners throughout the city of Seattle. City Fruit does not support the use of sprays. As such, our current pest prevention methods require placing a physical barrier between the fruit and potential pests. This will look come in the form of either placing an entire net over a tree or by bagging individual pieces of fruit. The steward will also be asked to do some light fruit thinning during this time as well. City Fruit's Harvest Manager will provide training and support for the position.
4. Buyer/Culinary Manager: Full Circle – This position will purchase for our select offerings and develop our FC prepped foods and meals. The buyer is responsible for sourcing, creating and purchasing for our weekly offering of Organic Produce and Artisanal local groceries for Full Circle customers in the Pacific Northwest. This includes all purchases and inventory management as well as farm and producer relationships and promotions.
5. Taliesin Agriculture Apprentice: Frank Lloyd Wright Foundation – The Taliesin Agriculture Apprentice will participate in the planning, opening, closing, and day-to-day maintenance of the 1/5-acre vegetable garden and farm-related activities in collaboration with Fazenda Boa Terra staff farming at Taliesin and the Chef/Kitchen Manager, and encourage the participation of Taliesin community members, students, and volunteers in the vegetable garden. The apprentice will have the opportunity to live, work, and learn at an established non-profit educational organization and CSA farm; to participate in cultural opportunities offered onsite; and to play an active role in a dynamic and vibrant community.
---
If you're looking to post a job and want to help make Green Job Post a better site, we'd be grateful if you could take two minutes to fill out our survey. We're offering three free Basic listings as a thank you (code is given at the end of the survey). Thanks from the Green Jobs team!
Keep up with the latest sustainable food jobs by subscribing to the Eat Drink Better newsletter or to the Sustainable Food Jobs newsletter!
Image Credit: Soil image via Shutterstock