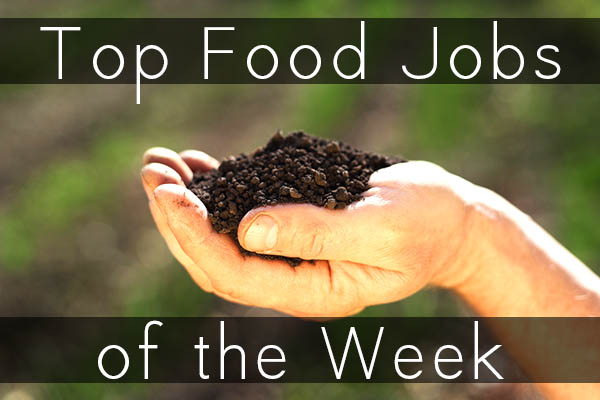 Today we are launching a fun weekly series in partnership with our sister site Green Job Post. You might remember the Indie GoGo campaign that our parent company ran this spring to fund the site.  You'll be glad to hear that it got ample funding, Green Job Post is a go! The site has listings for more than food jobs, but there's a great section of sustainable food jobs. Every week, we'll be sharing some select listings in this space.
Let's get to it!
Top Sustainable Food Jobs of the Week
---
1. Brewpub General Manager: The Workshop Brewing Company – Our beers use almost exclusively organic and/or local ingredients, our coffee is local and organic, we source all of our inputs as sustainably as practicality allows, our facility produces almost zero waste, and our food is seasonal and amazing. Our company's motto is "nature, community, craft." We are committed to open-book management, employee participation in the success of our enterprise, and a definition of success that values quality of life as much as economics….
2. Farm Manager: Stonewood Farm – Stonewood Farm is located just outside the Village of Millbrook in New York's pastoral Hudson Valley. The area is known as the bread basket serving New York City due to its wide range of farms, vineyards, and other culinary offerings. It is also known for its natural beauty and quiet, rural sophistication. Being less than a 90 minute drive to a wide range of destinations – everything from New York City to the Catskill, Berkshire and Adirondack mountain ranges – the lifestyle here is both civilized and bucolic.
3. Assistant Farm Manager: Oxbow Farm and Conservation Center 
– With a mission to promote sustainable land use, Oxbow Farm & Conservation Center includes a 25 acre organic farm, an education center, and native plant nursery located on 200 acres of forest and valley land in the Snoqualmie Valley, 25 miles east of Seattle. The farm supports a 700 member CSA and supplies local restaurants and independent grocery stores with local, organic produce. Our education center, which has a working small farm and Living Playground, is committed to teaching children about sustainable agriculture and the environment.
4. Executive Director: Growing Gardens – Growing Gardens' mission is to reduce hunger. We work with thousands of volunteers to build home and school organic vegetable gardens. We provide three years of support, supplies, seeds and plants, mentoring and more. When we support low-income Portland residents with the resources and education they need to grow their own food—they become healthier, more physically active and self-reliant— and that's a recipe for strong, sustainable and vibrant communities.
5. Go-to-Market Ninja: Imperfect Foods – About Imperfect Imperfect is a mission-driven startup that is creating America's first major consumer brand for "ugly" produce. One in five fruits and vegetables grown in America never make it off the farm due to tiny cosmetic defects that do not effect quality. Imperfect is on a mission to find a home for these misshapen fruits and veggies in people's fridges by selling them for a 30-50% discount with a lovable, hip brand.
Keep up with the latest sustainable food jobs by subscribing to the Eat Drink Better newsletter or to the Sustainable Food Jobs newsletter!
Image Credit: Soil image via Shutterstock