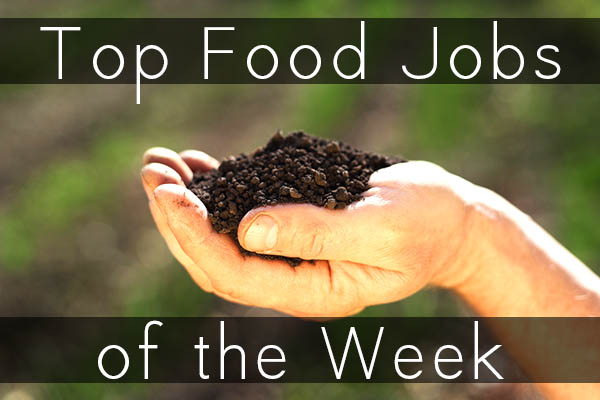 It's time again for our weekly sustainable food jobs series in partnership with our sister site: Green Job Post. Every week, we share some select food job listings in this space. The site has listings for more food jobs, and there's a great section of sustainable food jobs, if you'd like to browse more listings.
Top Sustainable Food Jobs of the Week
---
1. Research and Policy Analyst, Food System: Earthjustice – The Research and Policy Analyst will research and synthesize the environmental, health, climate, economic, and social aspects of specific aspects of industrial agriculture to develop the factual basis for our advocacy. The position will also examine successful policies at local, state, and federal levels and investigate opportunities to expand them.
2. Culinary Manager, Netherlands: Marley Spoon – We're looking for a confident part-time team member for our small and agile culinary & content team. Marley Spoon is a well-funded Berlin based startup that is re-inventing the food supply chain, providing customized food experiences.
3. Farm Manager: High Mowing Organic Seeds – High Mowing Organic Seeds is looking for a highly organized, experienced and technically minded organic grower to design and manage all aspects of our multi-site farm operation.  The ideal candidate must be positive, hard working, energetic and enjoy working collaboratively with others.  This position reports directly to the General Manager and is a key leadership position in the company.
4. Program Manager: Common Ground Garden – Common Ground Garden Program Manager Common Ground Garden (commongroundgarden.org), a project of Ecology Action (www.growbiointensive.org), is seeking a part-time (30hrs/week) program manager for our Edible Education program, adult classes, garden maintenance, and media/fundraising.
5. Kombucha Delivery & Sales Rep: House Kombucha – Interested in helping to grow sales for the Bay Area's most dynamic, innovative kombucha brewing company? Ambitious applicants welcomed, especially if you're looking for new growth opportunities in the exciting local, artisanal food and beverage industry! If you know you're a natural for sales – a skilled negotiator, people person, and excellent communicator – then this is your opportunity to grow your skill set and earn good money!
Keep up with the latest sustainable food jobs by subscribing to the Eat Drink Better newsletter or to the Sustainable Food Jobs newsletter!
Image Credit: Soil image via Shutterstock