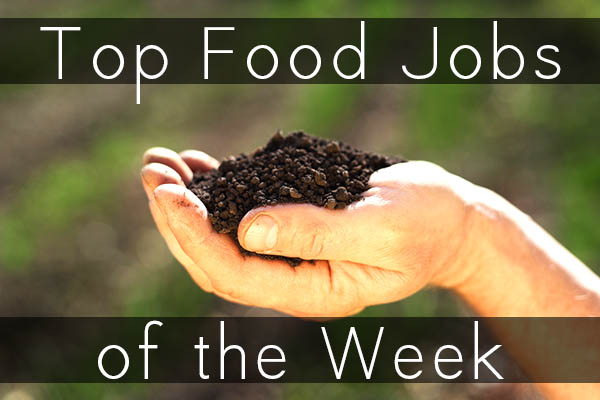 It's time again for our new weekly series in partnership with our sister site: Green Job Post. You might remember the Indie GoGo campaign that our parent company ran this spring to fund the site.  You'll be glad to hear that it got ample funding, Green Job Post is a go!
The site has listings for more than food jobs, and there's a great section of sustainable food jobs. Every week, we'll be sharing some select listings in this space.
Let's get to it!
Top Sustainable Food Jobs of the Week
---
1. Brewpub General Manager: The Workshop Brewing Company – Our beers use almost exclusively organic and/or local ingredients, our coffee is local and organic, we source all of our inputs as sustainably as practicality allows, our facility produces almost zero waste, and our food is seasonal and amazing. Our company's motto is "nature, community, craft." We are committed to open-book management, employee participation in the success of our enterprise, and a definition of success that values quality of life as much as economics.
2. Executive Director: Growing Gardens – Growing Gardens' mission is to reduce hunger. We work with thousands of volunteers to build home and school organic vegetable gardens. We provide three years of support, supplies, seeds and plants, mentoring and more. When we support low-income Portland residents with the resources and education they need to grow their own food—they become healthier, more physically active and self-reliant— and that's a recipe for strong, sustainable and vibrant communities.
3. Finance Associate: Rainforest Alliance
– The Rainforest Alliance is an international nonprofit organization that works to conserve biodiversity and ensure sustainable livelihoods by transforming land-use practices, business practices and consumer behavior. Based in New York City, with offices throughout the United States and worldwide, the Rainforest Alliance works with people whose livelihoods depend on the land, helping them transform the way they grow food, harvest wood and host travelers.
4. Go-To-Market Ninja: Imperfect Foods – We need your help to show the world the true beauty of ugly produce. The Go-to-Market Ninja is a sales management role focused around driving the growth of our business. We currently have 4 members of our Outreach Team who are experimenting with a variety of sales channels in the Oakland, Berkeley and Emeryville community.
5. Communications and Development Specialist: National Sustainable Agriculture Coalition – The National Sustainable Agriculture Coalition (NSAC) is an alliance of grassroots organizations that advocates for federal policy reform to advance the sustainability of agriculture, food systems, natural resources, and rural communities.
Keep up with the latest sustainable food jobs by subscribing to the Eat Drink Better newsletter or to the Sustainable Food Jobs newsletter!
Image Credit: Soil image via Shutterstock