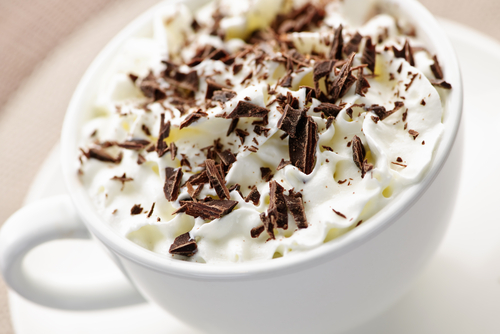 Oh no, here come the holidays! Don't get the wrong idea, the holidays are great. The joy of stringing lights through the trees in the front yard is memorable, and the endless supply of food and drink is overwhelming.
In the name of health, maybe you decide to skip those gingerbread cookies and go for some holiday beverages instead. Sadly, those holiday drinks, especially the ones you grab on the go, are often just as unhealthy. Not only are these drinks bad for your waistline, but they're full of genetically modified ingredients like high fructose corn syrup, and you can bet that most of these big chains don't source their milk from organic or sustainable farms.
This is the world of calorie-laden beverages, and here are a few that should be on top of the naughty list.
Yummy (and unhealthy) hot chocolate drink made with steamed milk, white chocolate, and a whipped cream topping.
Calories: 640
Total Fat: 28 grams
Sodium: 340 milligrams
Sugars: 78 grams
The worst part of this drink? It contains not one, but two chocolate syrup types: mocha mint syrup and white chocolate syrup.
Calories: 610
Total Fat: 17 grams
Saturated Fat: 11 grams
Sugars: 83 grams
This is an espresso made with milk and steamed eggnog and has ground nutmeg on top.
Calories: 630
Total Fat: 29 grams
Cholesterol: 185 milligrams
Sodium: 300 milligrams
Tasty caramel with a dash of coffee mixed with ice and topped by rich caramel drizzle and whipped cream.
Calories: 680
Saturated Fat: 18 grams
Carbohydrates: 94 grams
Sodium: 200 milligrams
What could be better than the nutmeg and cinnamon flavors of gingerbread cookies with a touch of espresso? Not much, but drink at your own risk!
Calories: 710
Saturated Fat: 12 grams
Sugars: 118 grams
Carbohydrates: 136 grams
Espresso with steamed milk and peppermint and white chocolate flavored syrups. Top it off with dark chocolate and extra-sweet whipped cream for a calorie-rich delight.
Calories: 700
Total Fat: 26 grams
Sodium: 290 milligrams
Sugars: 94 grams
Chocolate and spice—what a combination!
Calories: 790
Saturated Fat: 27 grams
Carbohydrates: 92 grams
Sugars: 93 grams
Similar to the previous choice, and just as unhealthy.
Calories: 880
Saturated Fat: 26 grams
Carbohydrates: 95 grams
Sugars: 72 grams
A creamy hand-spun milkshake topped with a cherry and whipped cream. Available in many other flavors, all of which are equally calorie-laden.
Calories: 930
Saturated Fat: 20 grams
Cholesterol: 95 milligrams
Sugars: 127 grams
Is this a holiday delight or a heart attack waiting to happen? Check out the numbers on this one!
Calories: 1,256
Total Fat: 58 grams
Saturated Fat: 40 grams
Sugars: 142 grams
Luckily, you don't have to head to a chain store for a sugary, unhealthy holiday drink. It's easy as pie to whip up your own at home, where you can control your portion size and how much sugar and fat you're using. Here are a few holiday drink recipes to get you started:
I bet you guys whip up some delicious holiday drinks, too! What's your favorite festive libation?
 Unhealthy Drink photo via Shutterstock