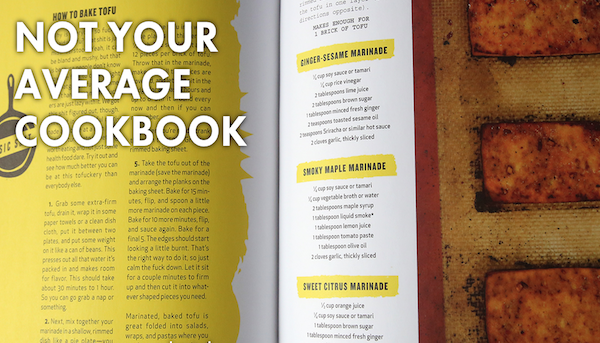 A good epithet can go a long f*cking way to make a damn important point. And there's no argument that choosing to adopt a healthy, plant-based diet is an imperative discussion these days, worthy of harsh language, particularly as it's intricately linked to impending global warming issues, our myriad health crises and the evolution of our human ethics and values. Enter the new Thug Kitchen plant-based cookbook "Eat Like You Give A F*ck",  garnering a lot of attention and controversy.
The cookbook was born out of an anonymous website that received praise and promotion from the likes of Gwyneth Paltrow and Saveur magazine. It's known for using harsh language that sounds more like it's coming from young black kids, rather than the white Hollywood-based couple, Michelle Davis and Matt Holloway, who actually wrote the book.
"Thug Kitchen has a clear brand — liberal use of profanity and slang intended to champion healthful eating habits for everyone," reports LA Weekly. The authors' aim was to reach a wide audience—not just the typical consumer of healthy foods, who tends to be white, liberal and financially well-off.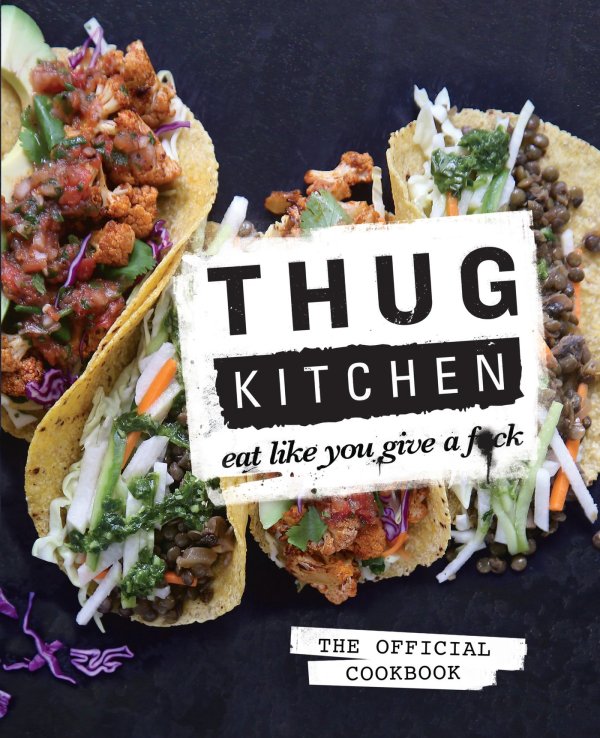 But have they co-opted the "thug" persona inappropriately? Critics are charging that Davis' and Holloway's voice is "digital blackface" and that disguising themselves from the start is an admission that they were misusing a black voice for financial gain. The controversy is heating up so severely that book signing events have been canceled at the threat of protests.
And it's no surprise that an overwhelming number of Facebook fans of Thug Kitchen look exactly like the demographic they were unable to avoid—rich, liberal and white. Or, perhaps that was their target audience all along—people who found the gimmick so delightfully charming because, as everyone knows, someone who would actually speak that way would never actually eat healthy, vegetarian food, right? It was only funny because it's so true. That Gwyneth Paltrow, the quaint queen of cultural delusion, was such a huge fan is a clear indication of how far-removed from our national food crisis Davis and Holloway seem to be.
"For their part, Davis and Holloway have said their intention in writing the blog anonymously was to make the food the message instead of posting pictures of themselves — and that their use of the word thug describes 'an attitude' about 'being a badass in the kitchen'," reports LA Weekly.
Supporters of the thugs agree and say that the healthy food recipes should be the focus, not the voice they're delivered in or who is behind the book. But when many of the nation's black communities are located in food deserts where there aren't even supermarkets, let alone many healthy options, it's hard to ignore the language as anything but an insulting manipulation of a culture to sell cookbooks to white people.
Images via Thug Kitchen