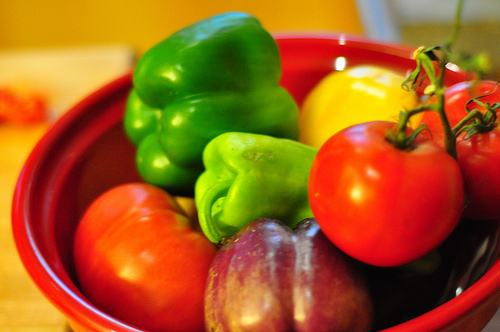 Summer is almost here and these three new cookbooks have plenty of ideas for summer fare, both light and hearty.
Around here, summer gets to be blazing hot and the biggest expense is keeping the house cool. We have ceiling fans, UV film on the windows, shutters to keep the direct sunlight out in the afternoon, and large trees planted on the west and south sides of the house, but turning on the oven to cook a meal undoes all that effort and planning.
Slow Cooker Revolution
As I learned from Cooking Green: Reducing Your Carbon Footprint by Kate Heyhoe, cooking in a slow cooker not only reduces the amount of energy used cooking, but also reduces the amount of energy used to cool the house as a welcome side effect. America's Test Kitchen tested hundreds of recipes in thirty slow cookers, whittling the number of recipes that made it into the Slow Cooker Revolution to just two hundred.
Slow Cooker Revolution contains not just the soups, stews, and chilis that we all associate with the slow cooker, but also things like meatloaf, casseroles, enchiladas, and lasagna. There's even a dessert section with recipes for cherry cobbler, various bread puddings and rice puddings, and poached pears.
Ani's Raw Food Asia
For those days when you're looking for something cooler to eat, there's Ani Phyo's latest contribution to raw food, Ani's Raw Food Asia. The author of Ani's Raw Food Kitchen and Ani's Raw Food Essentials has taken on Asian food to produce these raw East-West fusion recipes.
The recipes are inspired by takeout food many of us are familiar with and come from a variety of countries – Korea, Japan, China, Thailand, Vietnam, India, Indonesia, and Hawaii. They're quick and simple and when a recipe calls for an unusual ingredient, Ani Phyo includes suggestions for substitute ingredients.  You can also use this list of ingredients for the Asian ingredients for the vegan kitchen to get up to speed.
The Old Farmer's Almanac Garden-Fresh Cookbook
More than 325 recipes fill The Old Farmer's Almanac Garden-Fresh Cookbook full of glossy photos and tips on growing, harvesting, selecting from the supermarket, and even planning your own garden. The recipes in here can be made in large portions and eaten cold on another day and many of them are quick.
The cookbook is organized in a fairly traditional manner – breakfast, appetizers, soups, etc. Use the index to find a particular vegetable or fruit and select the recipes from there.
Many of the recipes are classics – vichysoisse, minestrone – but many have twists that make them lower in calories or quicker to cook. A large section on sauces and condiments contains wonderful dipping sauces that will go great with cut fruits and vegetables at an outdoor party.
With the recent study on farmers markets being cheaper than supermarkets, these three summer cookbooks should give you plenty of ideas for using all that fresh produce.
Image of summer vegetables by tvol, used with Creative Commons license.