Labor Day weekend and the end of summer are both good excuses to go camping. Here are three great, easy camping cocktails for your next foray in the great outdoors.
Easy Camping Cocktails
Outer Boroughs Cocktail
Ingredients
1½ ounce Rye Whiskey
¾ ounce 

Gran Classico

½ ounce 

Carpano

Dash of lemon or orange bitters
Directions
Light a smoke chip in the fire. Once it's smoldering, pick it up with tongs and place it in your enamel coffee mug and cover it with a piece of foil. Wait 30 seconds, remove the foil, dump the smoke chip back into the fire, and pour in your pre-mixed Outer Boroughs.
Add a few large chunks of ice and stir.
Templeton Lemonade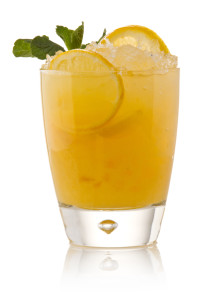 This recipe comes courtesy of Templeton Rye Whiskey and is a simple and refreshing cocktail. Despite the photo, it would be perfect for a pint-sized mason jar.
Ingredients
   

2 ounces Rye Whiskey

   ½ ounce 

Triple Sec

   

Fresh lemonade

   

Splash lemon lime soda
Directions
In a pint glass, squeeze juice from and add half lemon and spirits.
Add ice, fresh lemonade and a splash of lemon lime soda.
Cover with mixing tin and shake once to incorporate.
Fernet 'Smore
Ingredients
1 bottle Fernet Branca

1 toasted marshmallow
Directions
Roast a jumbo marshmallow.
Carefully empty the insides (Enjoy the fluff).
Cool for a little bit so it takes shape.
Pour in Ferent Branca to mashmallowey brim.