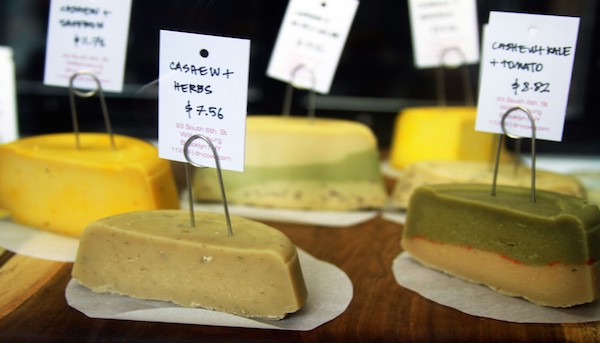 Dr. Cow makes the finest, grandest, most addictive vegan cheese on Earth. And now the company has opened a flagship store in the BK.
 Daiya lovers, calm down.
If you have never tried Dr. Cow's tree-nut cheeses, you are missing out. As a vegan more than two decades, I've tasted pretty much every vegan cheese offering that is or ever was in existence. Seriously. Most of it wasn't good. More of it was pretty gross. Let's not even start in on Tofutti's hydrogenated oil goop that health food stores still sell. (What is up with that, by the way?)
The thing about vegan cheese is that most of it royally sucks. It's only really a viable indulgence if it's melted-ish across the top of a pizza that you're mainly eating 'cuz you're a carb addict anyway. The vegan cheese just helps it slide down faster.
But that's not cheese. That's processed oils. And a lot of factory machinery. And gelling agents. That's not Dr. Cow. But that's exactly why the Brooklyn-based company can get away with a cheese shop and the popular "it melts!" Daiya, on the other hand, cannot.
From a small-scale production in the Williamsburg section of Brooklyn, the team at Dr. Cow, Pablo and Veronica, have mastered—and I mean mastered—plant-based cheeses. Their offerings contain the tang and pungency of 'real' cheese. There's a soft melt-in-your-mouthness to them that is in a word: orgasmic. It's as if Pablo and Veronica have scientifically proven that true cheese need not come from a cow, goat or sheep. Imagine that.
Now, you vegan cheese lovers have a serious reason for heading towards that Williamsburg bridge. For, just underneath it, lies the mouthwatering goodness of Dr. Cow in its very own cheese shop.
If you can't make it to Brooklyn any time soon, don't miss out on this stuff. Look for Dr. Cow cheeses in your local artisan health food store. And fork over the $10 plus for a wheel. It's unbelievably worth it.
Visit Dr. Cow's website for more information.
Image via The Discerning Brute