I love a good cookbook, even though I don't really follow recipes very often. Cookbooks are more like jumping-off points around here, and if there's one thing I love as much as a good cookbook, it's a good cocktail. That's why when the folks at New World Library offered me a review copy of The Sexy Vegan's Happy Hour at Home, I couldn't say no!
This is Brian Patton's – aka The Sexy Vegan's – second cookbook, and I reviewed the first one on my personal site last March. What I love about Patton's books is that he makes cooking so much fun. His writing style is punny, which really speaks to my hoaky sense of humor. Check out his book trailer to get an idea of his style:
The Sexy Vegan's Happy Hour at Home is broken down into menus for all of your vegan cocktail party planning needs. Each menu includes a cocktail recommendation, and the cocktails recipes are in the back of the book. It's really an all-in-one for throwing a delicious vegan shindig! He's got menus from all over the world with all kinds of fun themes like Papadilla, Don't Preach, a Mexican menu featuring his reinvented quesadillas using potatoes instead of cheese, and Satay-Day Night Fever, an Asian-themed menu.
Even better? Each menu includes a shopping list for convenient pantry-stocking before you start cooking for your vegan happy hour.
The publishers were kind enough to allow us to print a couple of recipes from the book.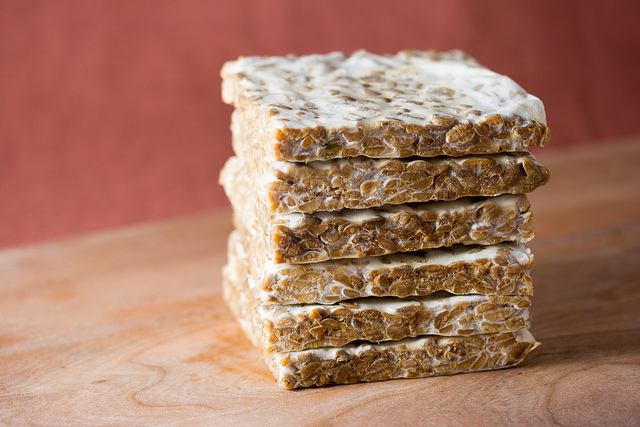 Tempeh Satay with Peanut Sauce
Ingredients
two 8-ounce packages of tempeh, cut into 3- to 4-inch slices, each about 1/2 inch thick
1/2 cup low-sodium tamari
1/4 cup mirin
3 garlic cloves, crushed
1 tumb-sized piece of ginger, peeled and sliced
3 1/2 cups water
1/2 cup arrowroot
1/2 cup rice flour
1 cup panko bread crumbs
1/2 cup sweetened coconut shreds
salt and pepper
2 tablespoons neutral-flavored oil
16 wooden skewers
sesame seeds, for garnish
lime wedges, for garnish
1 1/2 cups store-bought peanut sauce or Sexy Peanut Sauce (recipe follows)
Cooking Directions
In a medium pot, combine the tempeh slices, tamari, mirin, garlic, ginger, and 3 cups of the water, and bring to a simmer over medium-high heat. Simmer for 15 minutes, until the tempeh has softened somewhat. Then remove them from the pot with a slotted spoon and set aside to cool.
Once the tempeh is cooked, set up your breading station. In a medium bowl, whisk together the remaining 1/2 cup water and the arrowroot. Spread out the rice flour on a large plate. On another large plate, mix together the bread crumbs and coconut, and season with salt and pepper. Line a baking sheet with parchment paper or a Silpat baking mat so that you have somewhere to place the breaded tempeh. To bread the tempeh, roll the tempeh slices in the flour, then dunk them in the arrowroot slurry, then coat them in the bread crumbs-coconut mixture. Place them on the baking sheet.
In a large skillet, heat the oil over medium-high heat. Working in batches, brown the tempeh on each side, turning with tongs after 2 or 3 minutes. When browned, remove from the pan to allow to cool slightly. When they are cool enough to handle, skewer the slices lengthwise. Arrange sexily on a fancy-ass plate, and garnish with the sesame seeds and lime wedges. Serve with the peanut sauce for dipping.
Sexy Peanut Sauce
Ingredients
1/2 cup coconut milk
1/2 cup smooth peanut butter
2 teaspoons low-sodium tamari
1/2 teaspoon Sriracha or other Thai chili sauce
2 teaspoons fresh lime juice
1/4 cup water
salt and pepper
Cooking Directions
In a medium bowl, whisk together the coconut milk, peanut butter, tamari, Sriracha, lime juice, and water until smooth. Season with salt and pepper to taste.
The Punchy Pineapple
Ingredients
Makes 1 cocktail
ice cubes
2 fluid ounces (1 1/2 shots) spiced rum
3 fluid ounces coconut water
2 fluid ounces pineapple juice
3 fluid ounces ginger beer
splash of Amaretto
Cooking Directions
Fill a tumbler halfway with ice cubes. Add the rum, coconut water, pineapple juice, ginger beer, and Amaretto. Stir with a long spoon.
Image Credit: Creative Commons photo by Veganbaking.net