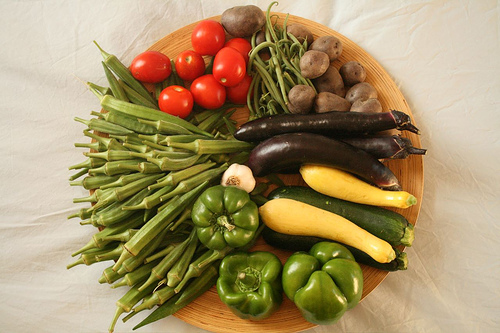 I always struggle over what to buy my father and stepmother for the holidays. They have everything they need, and when I try to buy something for their home decor, it often ends up in a garage sale.  This year I had a brilliant idea: a share in a family farm.
This summer when my dad came to visit, I told him about Community Supported Agriculture (CSA), and he sounded interested.  You see, my dad is a big Willie Nelson fan, and he grew up visiting family farms.  As Beth Bader explains:
CSA stands for Community Supported Agriculture. It is basically a mutual agreement between consumers and a farmer that helps guarantee the farmer a reliable income, and the consumers each get a share of the produce throughout the season.

A CSA is a real partnership; the consumers take on some of the risk of farming as a bad season can mean less produce. However, the support through the tough seasons allows the farm to continue, and it certainly pays off during the good seasons. Most seasons, a CSA subscription provides enough produce to feed a family of four. Many will offer shared, or half subscriptions for single people or small families.
Local Harvest makes it easy to subscribe online and give the gift of a CSA membership. By entering in my father's zip code, I was able to find a family farm that delivered to his local farmer's market once a week.  Paige's Produce offers a variety of shares, from fruit to eggs, and I decided to purchase my father and his wife a half share of veggies.  The gratitude felt by the farmer Brian Hesler was touching, as he expressed to me, "Thanks again, we could not strive in this age without people like you."
I am a little nervous about this gift.  Although it is not the same as giving someone a puppy for Christmas without asking first, it is pretty big life changing gift. My dad and stepmother will learn to eat seasonally and locally. Since they have to pick up the food at the farmer's market once a week, they will become part of farmers' market culture and shop from other growers.  When I come to visit, I will ask to go to the farm, and I am already enjoying the farm's newsletters from afar.  I am excited to see their reaction when they open their envelope with their CSA contract, farm info, and background info on CSAs.  It is certainly better than giving my father another Jerry Garcia tie for Christmas!
Image:  thebittenword.com on Flickr under a Creative Commons License