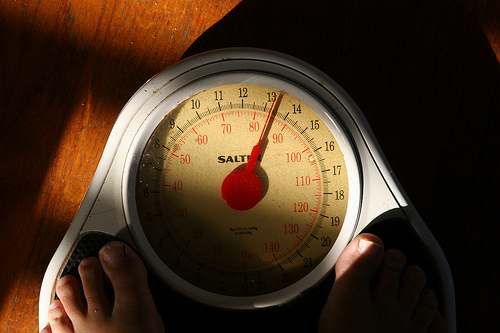 The latest diet craze includes starving PLUS injecting yourself with pregnancy hormones.  What will they think of next?
Read a bit about the diet, the 'science' behind it and why it is not an effective solution for weight loss.
The madness is the hCG diet…it's basically starving, plus putting weird hormones in your body
hCG is the hormone found in pregnant women…you know, the one that is thought to cause morning sickness. Some (possibly questionable) research was done showing that this hormone could help obese people lose weight, and now is the latest fad diet.
The diet has people eating about 500 calories per day (read: starvation) and getting injections of the pregnancy hormone hCG.  The hormone is said to help reduce appetite so the dieter doesn't know they are only eating 500 calories per day.
Exercise whilst on the diet is discouraged as it 'may increase hunger'.
Analysis
If someone could possibly stick to eat 500 calories per day, they would of course lose weight, even without exercise.  Even a thin female leading a mainly sedentary life needs about 1800 calories per day to maintain her current weight.  Assuming this, she would lose about 2.5 per week initially PLUS whatever she lost in fluids…and that could end up being a lot.
Sounds great, right?  However, not all of this is fat.  Most of it is fluid.  Losing pounds in fluids isn't really the weight loss most people are looking for…fluids come back eventually.  Also, a significant part of weight loss, especially with such a calorie reduction and no exercise, is muscle.  Muscle is what makes people look good and healthy, and this is what most people are striving for.
Eating so few calories, your body is basically acting like it is fasting.  You will be tired, very tired, achy…and if it goes on for to long, you will possibly lose hair and suffer other ill effects while your body compensates for the calories reduction.
Why fasting (and the hCG diet) won't work for weight loss
Extreme calorie reduction doesn't work because your body thinks it is starving and takes preparations against this.  Your basal metabolic rate (BMR) is lowered, meaning you have less energy and your body will start cutting out non-essential processes (e.g., growing hair) to compensate.  Because your BMR is lower, once you start eating more resume eating a normal amount of calories again, you start packing on the pounds until your body readjusts.
In a study, it was shown that people who received saline injections lost no more weight than those who received hCG injections, suggesting that they do not help curb appetite.
Furthermore, hCG is not FDA approved for weight loss. It could potentially be illegal to obtain hCG for this purpose.
Conclusion
As with any fad diet…this is just not sustainable or healthy.  It is not realistic to eat only 500 calories per day.  It is stupid to inject yourself with pregnancy hormones.  What happened here is that someone bastardized some science to make a seemingly effortless diet to take people's money away from them.
Here are some good tips on healthy weight loss.  No quick fixes!
Photo credit: puuikibeach