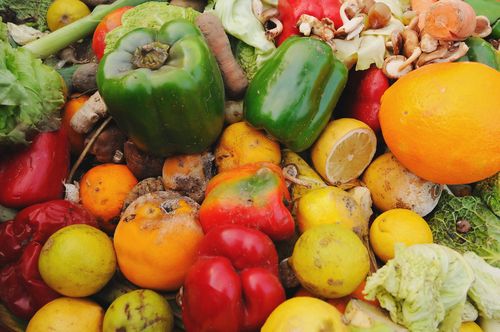 On "The Big Waste", four Food Network chefs prepare a multi-course feast for one hundred people with waste food. Anne Burrell, Bobby Flay, Alex Guarnaschelli, and Michael Symon groan when they hear the challenge. Garbage? Unfortunately, they find it's very easy to produce a large feast from the food that's wasted each day.
Typical of Food Network shows, the four chefs are competing in teams to see who can come up with best recipe from a limited selection of foods. They can only use ingredients on their way to the trash. According to the show, 40% of food in America goes uneaten – 200 pounds per person per year. Food waste is a big problem.
Waste in Food Preparation and Distribution
Alex and Anne start at Ferrara Bakery, where they find that the ends of deli-sliced meat and grinds of coffee and cocoa are thrown away. Flour on the outside of rising dough is swept off and thrown away instead of being reused or repurposed.
Bobby and Michael go to Manhattan Food Exchange, where fresh produce that looks fine to my eye is being thrown out. The owner of the store points out peas with lighter green spots on the pods. He takes the chefs to the back of the store and shows them carrots with bumps and radishes with wilted greens. All this is food that we would love if we pulled it out of our own gardens.
The next place Alex and Anne go to is a seafood distributor. He's stuck with returned orders because of party cancellations and other reasons and, in some cases, fish with slightly discolored flesh that are still fresh. As a distributor, he can't find a new buyer before the fish goes bad. Any delay of delivery can mean that he'll lose a large stock of fish.
Bobby and Michael continue on to a butcher. They find beef bones and organ meats that are going to be thrown away. They make the obvious decision and take those home for broth and stock.
All the food has to pass inspection by a food inspector. He meets them back at the kitchen and tests all the animal products for temperature. Everything passes, except the prosciutto, which Anne decides to take home and feed her family.
Dumpster Diving with a Freegan
Next up, Anne Burrell spends an evening with a freegan. A freegan dumpster dives for food. After stores close, they throw away the food that will expire the next day or just to make room for the next day's inventory. The segment shows an astonishing amount of fresh veggies and prepared food in the garbage.
It's a great idea to reduce waste, but with one caveat: you really have to know what you're doing to pull food out of the garbage and eat it. Earlier in the day, the chefs were looking at food pulled from produce stands. Once food goes into the garbage, you don't know if the raw produce has had contact with raw meat. A store might have thrown out that prepared food because they found a problem with the preparation and decided it was unsafe, not just "old".
Waste on the Farm
The next day, the chefs head out to various farms and produce stands. Rick at Lawrence Farm Orchards says that 40 to 50% of his food is wasted. His pick-your-own farm has a lot of food lying on the ground and he says this is because people pick a head of cabbage or a tomato and then see one they like better, so they throw the first one on the ground.
At the other farms, the same thing happens. The piles of fresh produce that are being wasted are beautiful, but sad.
The Chicken and the Egg
But what was even more sad was amount of chicken and eggs wasted. Chickens are thrown out just because of appearance. They show one where the wing is broken, but the rest of the chicken looks fine. If I were roasting a whole hen, it would matter. Most of the time, though, when I buy a chicken, I'm just going to cut it up anyway.
Eggs are thrown out because of size. The ones that are too big can't fit in the carton. The ones that are too small wouldn't stay put and might break in the carton. They're just as useful in making bread or scrambled eggs, but they never make it to market.
The last fifteen minutes of the show focus on the competition and the dishes the chefs produce from the waste foods. By now, I'm sure you realize that their options are really unlimited. They're pretty much the same as if they had shopped in the grocery store for the food.
"The Big Waste" will show again on Food Network at 4 p.m. Eastern Time on January 14.
More on Food Waste
Image of produce via Shutterstock; Anne Burrell by Helga Esteb / Shutterstock.com; Alex Guarnaschelli by lev radin / Shutterstock.com; Bobby Flay by DFree / Shutterstock.com.