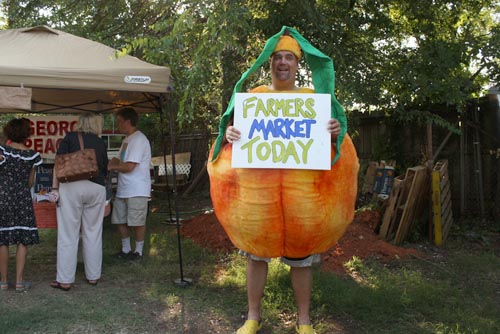 Do you shop at a local farmers market and love it?
American Farmland Trust is running a competition where folks can brag on our favorite farmers markets. Voting started on the 22nd and runs until September 3rd, so there's still plenty of time to throw your favorite market's name in the hat. To vote for your favorite farmers market, just head on over to the contest page and enter its name. I just entered my favorite market here in Atlanta, and it took about 2 minutes to vote. It may take a little bit longer if your local market isn't in the running yet.
Of course, I'd love to talk about farmers markets here, too! Tell us about your favorite farmers market and why you love it in the comments!
I've got a couple of favorites here in Atlanta: the East Atlanta Village Farmers Market that's very close to where I live and the Decatur Farmers Market that's a little further away but is organized by one of my favorite local farmers. What I love about shopping at both of these markets isn't just the delicious local fruits and veggies but the chance to gab with the farmers and learn about new food or new ways to prepare food. If I bought my figs at the grocery store instead of at the Decatur Farmers Market, I would never have thought to muddle them into a cocktail with gin. There's nothing like connecting with the people who lovingly grew and packaged your food to make it taste better and help you discover delicious new treats!
So, spill it my fellow farmers market shoppers! What's your favorite farmers market, and what makes you love it?