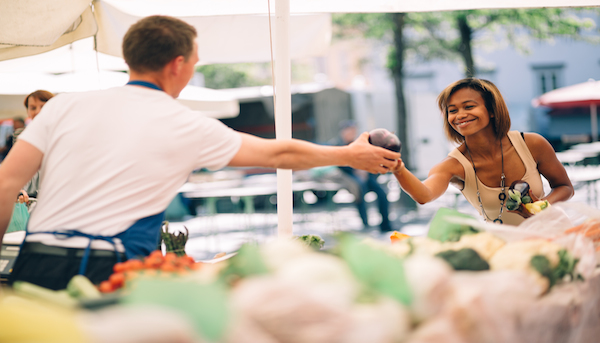 We trust farmers markets to be the anti-supermarket. There are no unflattering fluorescent lights, loud disorienting music, those confusing price tags or dizzying endcaps. But what if farmers market stalls were just going to the supermarket for you—and bringing those store-bought items to their stalls and telling you it was grown on their small family farm operation? It's happening in California, and the state is cracking down.
According to NPR, California's Governor Jerry Brown has just signed a law that will raise $1 million to fund inspectors—a sort of farmers market task force—to identify sellers buying their wares at supermarkets rather than picking them on their farms."There have been some well-publicized cases of fraud," reports NPR's The Salt. "In 2010, an investigative team from an NBC affiliate in Los Angeles followed one farmer's truck to the LA wholesale market, where he picked up a load of produce, including Mexican cantaloupes. That produce, according to the report, was later sold at farmers markets."
The investigation led to the discovery of 19 vendors who were misrepresenting store-bought produce being passed off as farm-grown. And there are likely many more produce impostors. "The new law will drastically increase funding for such inspections by raising fees that farmers pay to participate in farmers markets," says NPR.
While there are some "producer only" farmers markets around the country, that's not the case for many of the nation's farmers markets. And with interest in farmers markets growing in recent years, there's also been more occasions for vendors to take advantage of eager consumers. It may even be more subtle, reports NPR, with vendors "padding" inventory of farm-grown items with boxes of wholesale produce bought at markets such as restaurant supply stores.
It's all the more reason to get to know your growers. It's even a good practice to ask vendors at your market about other vendors. Farmers tend to know each other and can often tell you whether or not something looks like it was farm-grown. But for the most part, farmers market vendors are the real deal, and the quality, along with the prices, make it a healthier, more economical and a much more pleasant experience that supermarkets any day.
Farmers market image via Shutterstock