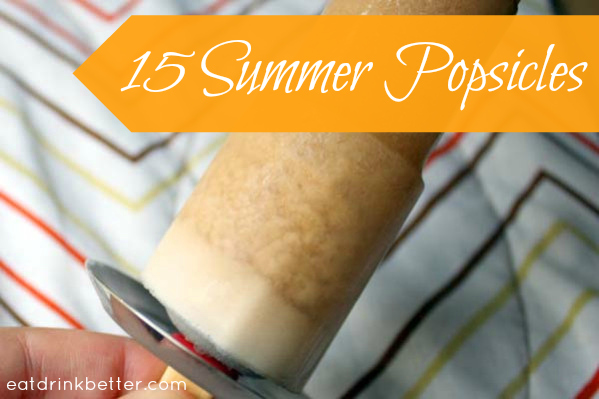 Whooboy, we've been having a scorcher of a spring here in Atlanta, and I'm betting that means a sweltering summer is on its way. Popsicles to the rescue!
The trouble with store-bought pops is that they're often not super healthy. They're usually wrapped in plastic and full of artificial colors, flavors, and GMO sugar. BOO! And health concerns aside, most of the pops in the freezer section at the grocery store are just boring.
This summer, why not whip up your own yummy pops with ingredients that you feel good about and interesting flavor combinations!
I put out a call on Twitter and Facebook for folks' favorite pop recipes and included some of my own favorites to beef up this list. Ready to get poppin'?
15 Summer Popsicle Recipes
1. One Facebook fan shares her recipe for a vegan fudgesicle: "blended frozen bananas, a little cocoa powder and vanilla. It tastes just like a fudge pop but with a hint of banana, and who doesn't like chocolate and bananas?"
2. Jerry James Stone is a pop-making superstar, and he said his favorite recipe lately has been this sweet and salty celery popsicle. It might sound a little strange, but this man knows his frozen desserts. Trust him!
3. My friend Kristen loves this chai tea popsicle recipe and says she uses agave nectar instead of honey to veganize it.
4. My pal Vivian had a super intriguing pop idea: "Horchata. Sometimes I'm lazy and just use store bought rice milk and add vanilla, cinnamon and throw in some raisins too."
5. Karen Lee shared a bunch of awesome pop recipes, including a red bean popsicle that looks fan-freaking-tastic!
6. Heather "RawVegan" Henry of Worcester's Vegan Eats suggests freezing up a smoothie pop: "Make a smoothie, pour it into popsicle maker/container stick the sticks in & freeze. This is how we use up really ripe bananas."
7. This creamy blueberry pop recipe from Groovy Green Living is rocking my socks!
8. This Rawsome Vegan Life makes decadent coconut milk pops with big chunks of fresh fruit. Y-U-M.
9. I love combining sweet and spicy, and one of my favorite pops to grab on the go is the pineapple habanero pop from our local popsicle-maker, King Of Pops. To make one at home, just combine pineapple juice in the blender with a little fresh habanero pepper (seeds removed). How much of the pepper you use depends on how hot you like things.
10. Another King of Pops fave of mine is their grapefruit and mint. Each pop has around 2 tablespoons of fresh mint in it and plenty of pink grapefruit juice. It's so refreshing on a steamy day.
11. If you want to get a little boozy, try a watermelon margarita pop.
12. I'm crazy for chai tea, and this chai popsicle recipe that I wrote for my personal site last summer is simple and yummy!
13. These vegan chocolate popsicles from Colorado Vegan are as delicious as they are easy to make.
14. Savory Simple's vegan banana cream popsicles with a touch of cinnamon and cardamom are just stellar.
15. The hibiscus tea popsicles at Fit Sugar are super yummy. Try them with orange juice instead of apple!
Do you have a favorite popsicle recipe? Let's keep the summer pop inspiration going!
photo by Becky Striepe