We spend a lot of time talking about what goes into our food, let's talk about what goes into our kitchens.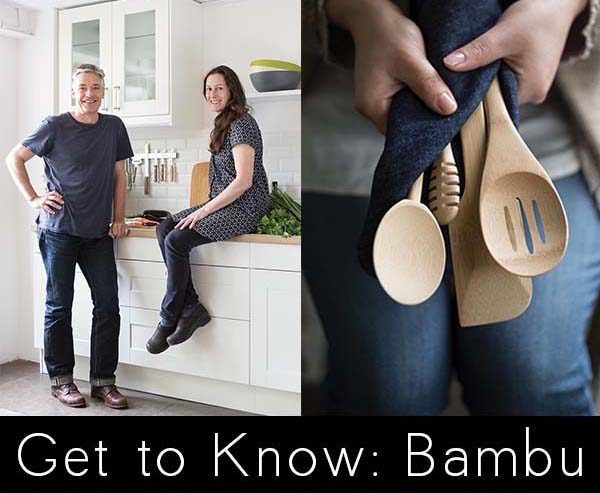 For me, healthy, sustainable food doesn't begin and end with what's on my plate. The dishes we use to serve and prepare our food matter, too. That means avoiding plastic in the kitchen and keeping safety in mind when choosing the tools and dishes that come into contact with food.
WebMD calls it "inevitable" that plastic touching food will transfer potentially harmful chemicals to that food. These chemicals are linked to all sorts of health issues, so for me avoiding plastic in the kitchen is as important as choosing healthy, organic ingredients when we are cooking.
Beyond the impacts in our own kitchens, let's consider where our kitchen tools and serving dishes came from. Who made them and under what conditions? How does the production process impact the environment? These are important questions, and many companies don't make it easy to find the answers.
When the folks at Bambu* wanted to partner with us, I was thrilled. Bambu® is a company that really cares about food safety, the environment, and worker rights. They make their products from natural materials like bamboo and cork, and the owners put a lot of thought into how their processes impact the environment and the people who make products for Bambu.
Bambu was founded in 2003 by Jeff Delkin and Rachel Speth– originally from Portland, Oregon but living in Shanghai at the time– and Chris Kidwell from Portland, Maine. These folks were early pioneers, creating green products before there was a 'green products' movement.
Delkin and Speth are still living in Shanghai, where their workshops are located. Being close to their production facility allows them to personally connect with their farmers and producers and ensure transparency.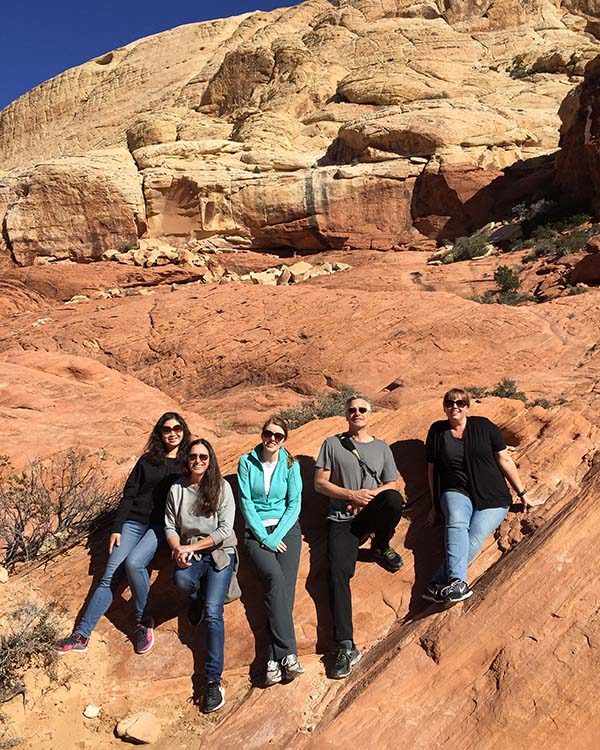 When they relocated, they knew that they wanted to maintain the sustainable practices they'd established in their Portland operation. At their workshops in China, they work hard to source local, ethical bamboo and work closely with their workers to ensure a safe working environment. And, as Andrea pointed out years ago in a Bambu review at Green Living Ideas, many of their kitchen tools are certified organic. Not just the source material, but the finished products, as well.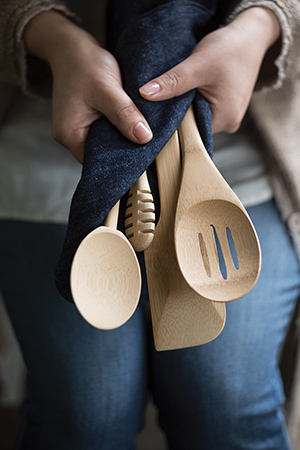 Co-founders Jeff Delkin and Rachel Speth are 'at the source,' so they're able to closely monitor every step of the company's production. They couldn't do what they do without their feet on the ground in China, working personally with their producers and fostering relationships that they and friendships they made over 15 years ago.
Bambu is sold in over 14 countries around the world. Delkin and Speth supervise every order they make. The pair likes to talk about the 'handmadeness' of their products; their producers are more like workshops than factories. People are surprised to learn that Bambu cutting boards and utensils are hand-shaped and -finished.
You don't have to take the company's word for it when it comes to worker and product safety. They adhere to a rigorous annual auditing process and third-party testing. Both their products and their facilities are third-party certified for safety, fair business practices and safe working conditions. They have even been recognized as a Green America Certified Business.
Co-founders Jeff Delkin and Rachel Speth do a great job telling the Bambu story on the company's Facebook page. They have a series of "conversation" videos where they talk about why and how they do what they do. One conversation that really struck me was their "Everything Matters" video, where they talk about the little details that make a big difference. You can watch that video here:
If you've ever ordered a "sustainable" product and had it arrive packed in Styrofoam, you know what a big deal these little details can be. Andrea received some compostable dinnerware to test out, and instead of Styrofoam or bubble wrap, they arrived packaged in recycled, shredded brown paper. Check it: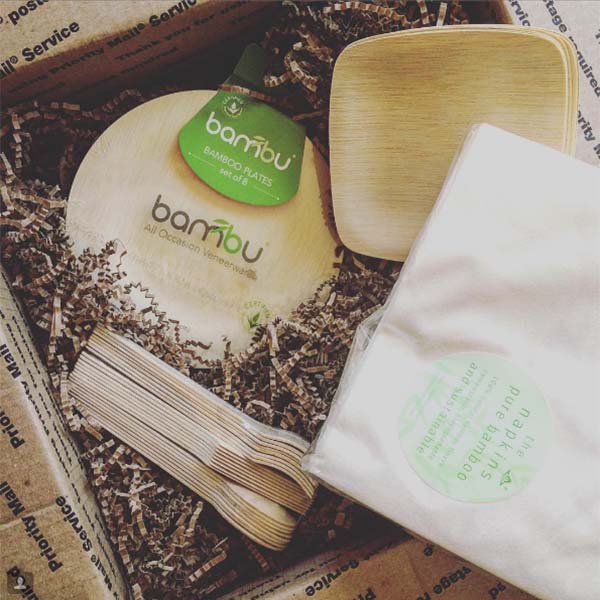 Every part of the supply chain matters, from growing and harvesting materials to production to getting products into customer hands. I love that Bambu thinks about how to reduce impacts every step of the way.
bambu is offering our readers a 20% discount in their online store until August 15, 2016.
Use code bambuEDB20 at checkout! 
Disclosure: This post was sponsored by Bambu. All opinions are my own.