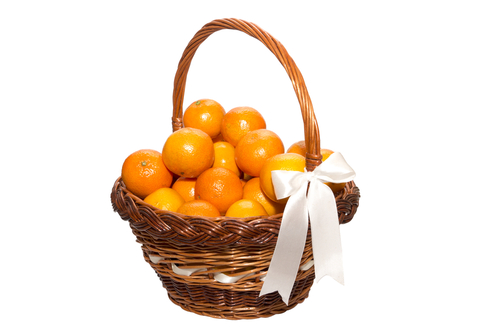 Ever looked at the gift basket selection around Christmas, Easter, or any other major holiday and thought, "I'd love to get a gift basket for someone, but that one's just full of GMO garbage"? If so, you're not alone. Even at Whole Foods, getting a gift basket for someone often means a whole mess of packaging, non-local foods, and potentially a fair bit of GMO junk (though Whole Foods has declared that by 2018 there will be no more GMOs in their stores).
If you're the entrepreneurial type, you've probably also thought, "I can do better than that". Well…maybe you can, and maybe there's even a career in it for you.
Starting a gift basket service is a business concept that has a lot of advantages, in terms of entrepreneurship. First, it's got low startup costs. You can make baskets in your home and sell them directly at Farmer's markets. Second, it doesn't require any formal education or training. While you have to know a few things about food, if you're a reader here at EatDrinkBetter, you're well on your way (so sign up for our newsletter in the right sidebar if you haven't already!). There are some basic legal requirements around food, but if you're not creating your own, then these are pretty minimal. If you want to include some of your own family recipes as part of the gift basket (a great way to vertically integrate!), then you'll need some access to a commercial kitchen. But if not, you're basically just taking other foods, packaging them, and reselling them, so the legal liability is likely reduced (we're not lawyers, so this is not legal advice…as always, consult your lawyer). Third, this is a business that allows you a fair bit of power to drive purchases into the green economy, supporting local farmers, organic production, and nothing GMO. In essence, you get to pick what goes into the gift basket, so it can be all the great green stuff that's available wholesale in your area (and, of course, local fruits and veggies if that makes sense in your area). Fourth, there's a great deal of flexibility, and your creativity is really all that's limiting the business.
The main idea is that you source locally, source organic, and let folks with less time and creativity (and more money) buy cool gift baskets for the folks they love. You've created an income for yourself, pushed purchases into the local green economy (helping create more local green businesses), and helped people avoid buying GMOs and other unhealthy stuff.
So…here are some resources for you.
Good luck! Let us know in the comments below if you end up starting a business like this.
Gift basket photo from Shutterstock