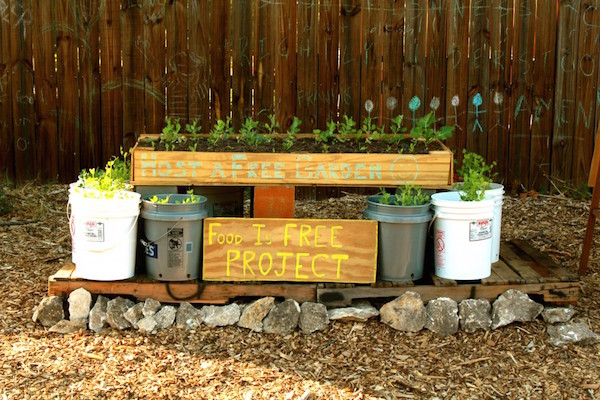 In January, the Austin-based non-profit Food is Free Project challenged us to plant at least one fruit tree in our front yards. #OperationFruitTree. Now they're sharing a 5-step approach to starting your own front yard community garden. What a great idea!
The Food is Free Project began with one front yard garden and a "food is free" sign. Today, there are Food is Free gardens in more than 200 cities. The organization provides inspiration and resources for building community by growing and sharing food with our neighbors. Plant food in your front yard. Get your neighbors to do the same. Share the bounty.
Food really is free when you grow your own.
5 Steps to Start Your Front Yard Community Garden
Want to meet your neighbors? Why not start your own community garden? Check out the new Food is Free guide: How to Start a Food is Free Project: A Guide to Growing Food and Community in your Front Yard. It's short and sweet and packs a powerful message. You can download it or read it online. Here's a summary of the five steps.
Step 1. Declaration — Share the vision with your neighbors.
Step 2. Location — Find a spot for your first neighborhood Food is Free garden or sharing table.
Step 3. Discover Resources — Find and salvage materials and tools.
Step 4. Planting — Start your garden with friends and neighbors.
Step 5. Sharing — Give away the food you grow.
I would add one more important step: Check your city's and homeowners association's rules to make sure you don't violate them. We've seen multiple families fined for growing food in their front yards.
I'd like to know my neighbors better. I see them walking their dogs and getting their mail. We smile and wave. But I don't really know them. Maybe a Food is Free community garden is the place to start building relationships.
What do you think? Would you consider starting your own Food is Free garden?
Image Credit: Food is Free Project