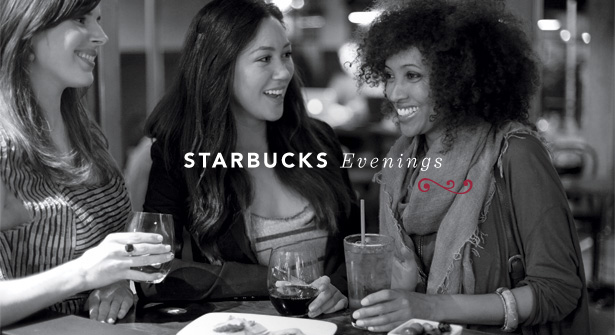 Starbuck's plans to roll out alcoholic beverages to thousands of stores over the next few years as part of it new Starbucks Evenings program.
According to Bloomberg Businessweek, Starbuck's wants your business all day long so its adding "more reasons to love it at night."  Starbucks Evenings is a new program being rolled out by the coffee retail giant.  And while a full scale happy hour is not in the works, you will be able to get bottled beer and wine, as well as their regular food and beverages, savory small plates and desserts. The Starbucks wine and beer will be available every day from 4 p.m. to regular closing hours.
According to the article, Starbucks considers its locations to be cafes, and the wine and beer will be sold along side their traditional offerings. Anyone working at a Starbucks that serves booze will have to be 21 or older.
The evening program has already been tested at select locations in Chicago, Seattle, Los Angeles, Atlanta, Portland, Ore., and Washington, D.C., and Chief Operating Officer Troy Alstead told Bloomberg News that it's proven to produce a "meaningful increase in sales during that time of the day."
Starbucks wine and beer are available in Chicago(PDF),  Seattle(PDF), Portland (PDF), Los Angeles (PDF), Atlanta (PDF) and Dulles Airport in Washington, DC. And while Starbucks Evenings promised to cater to regional tastes, most of the Starbucks wines offered come from big production wineries. That said, it was nice to see the Seattle and Portland wine lists include several Pacific Northwest wines, like a Chateau Ste. Michelle Riesling, an Erath Pinot Gris (Oregon), a Lange Estate Pinot Noir (Willamette Valley), an Amavi Cellars Syrah (Walla Walla Valley) and a Columbia Crest Cabernet.
Beer selections are not listed on their website menus but I'd love to see Starbucks support local craft beer since each of these regions have great breweries to pick from.