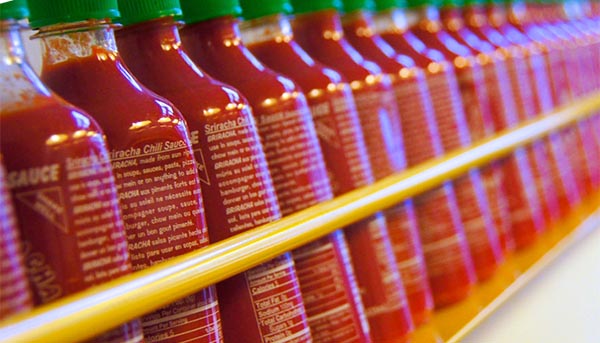 Did you know that Sriracha sauce was made right here in the U.S.? Irwindale, CA residents are trying to get the factory closed, calling the fumes it emits a public nuisance.
UPDATE: The ruling on the Sriracha factory is in.
If you've ever made your own hot sauce, you know that it's a pretty fume-tastic situation. Boiling hot peppers in vinegar produces its share of smells. Imagine doing that on an industrial scale, and you can see why folks in Irwindale are complaining of "burning eyes, irritated throats and headaches."
Irwindale is located in Los Angeles County, and residents filed suit with the county's Superior Court yesterday. A judge is going to consider it on Thursday, and we'll be waiting with bated breath.
Meanwhile, Huy Fong Foods, who produces Sriracha sauce, says they're doing everything that they can to reduce the fumes.
There's some debate about how unbearable the smell is. According to NPR's The Salt:
One nearby resident, Rita Sanchez, tells CBS Los Angeles that the smell and the tingling, burning sensations it can cause are "kind of unbearable." But another young woman, Sabrina Cabrera, isn't bothered. She compares it to the odors from neighbors' cooking.
Could this mean a Sriracha shortage?
If the factory does get shut down, that could mean – gasp – a Sriracha shortage! I KNOW.  I will be following this story closely, because I'd be pretty blue if I couldn't find my favorite hot sauce in stores.
Don't panic just yet, though. Here are a couple of hot sauce recipes to keep you in peppery goodness if we do end up with a Sriracha shortage:
Do you have a favorite hot sauce? How would you replace it if it were suddenly unavailable?
Image Credit: Remixed Creative Commons photo by tedeytan