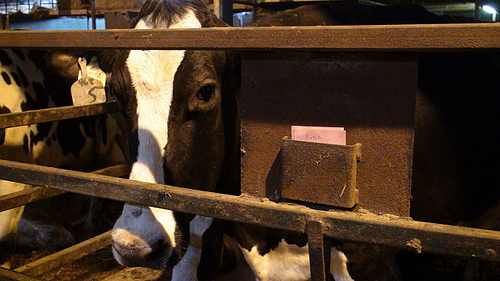 The UK is close to seeing its first ever factory dairy farm, and the World Society for the Protection of Animals is doing its best to protect consumer health and animal rights by blocking it.
The Not in My Cuppa campaign is aimed at educating British consumers about the pitfalls of factory farming.
The new farm would be home to over 8,000 cows, milked three times each day. The average UK farm has 100 to 125 cows milked twice a day. The proposed Nocton Dairies farm would give their cows two months outdoors each year, as opposed to the 6-8 months that cows at smaller operations enjoy.
Not in My Cuppa talks about the environmental concerns associated with this factory farm:
Nocton Dairies are making much of their manure disposal system, which will create enough electricity to power 2,000 homes. In reality the anaerobic digester will only deal with 10 to 20 per cent of the green house gas emissions – doing nothing for the emissions from feed production, silage effluent or enteric fermentation – the belching of 8,100 cows. Nor will it eliminate all pathogens and veterinary medicine residues which could potentially cause a public health risk.
You can learn more about the campaign and concerns about the Nocton Dairies farm in this video:
Want to get involved? The World Society for the Protection of Animals has a page dedicated to ways that you can get heard about factory farming.
Of course, you can avoid the issue of dairy all together by sticking to tasty milk alternatives!
Image Credit: Creative Commons photo by CALM Action