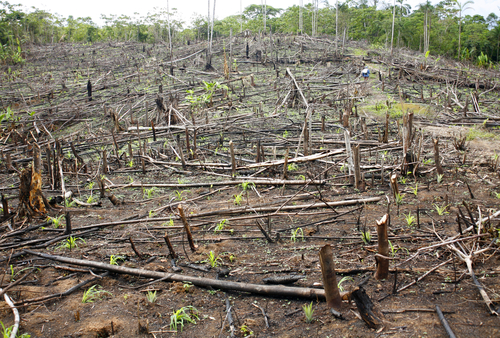 Are you cutting back or cutting out  your meat consumption partly because of the link between meat and deforestation? Studies have shown that soy production is also a major contributor to deforestation in Brazilian rainforests. Don't give up the tofu and edamame just yet, though, because there's more to this than meets the eye, and a recent report had some good news about this trend.
Soy and Deforestation
In the early 2000's, over 1/4 of the soy produced in South America was growing on deforested land cleared just to plant these crops. That added up to around 10% of the deforestation in the area. That's nothing to sneeze at!
We've talked about soy and deforestation before, but what we didn't bring up at that time is that a lot of the soybeans being grown in these areas are actually feed for cattle. That means your tofu scramble is most likely not a major culprit in Amazon deforestation.
The Good News
A new report, shows a significant drop in land-clearing to grow soy crops, despite a higher yield of soy in the region. This could be because farmers are using land that was already cleared, because of better enforcement against illegal land clearing, or a combination of these factors. According to Yale Environment 360, the rate of deforestation dropped from 10% to 2% since 2005.
An 8% drop is definitely significant, but of course it's still not zero. The best way to ensure that the soy you're eating isn't linked to deforestation is to buy organic and do your best to support companies that source their soybeans responsibly. If you're cutting out or cutting back on your meat consumption, you're already making a big impact for Amazon rainforests. As Lester R. Brown points out over at Sustainablog, "for the world's affluent population, it means moving down the food chain, eating less meat and thus lessening the growth in demand for soybeans."
Image Credit: Amazon Deforestation photo via Shutterstock