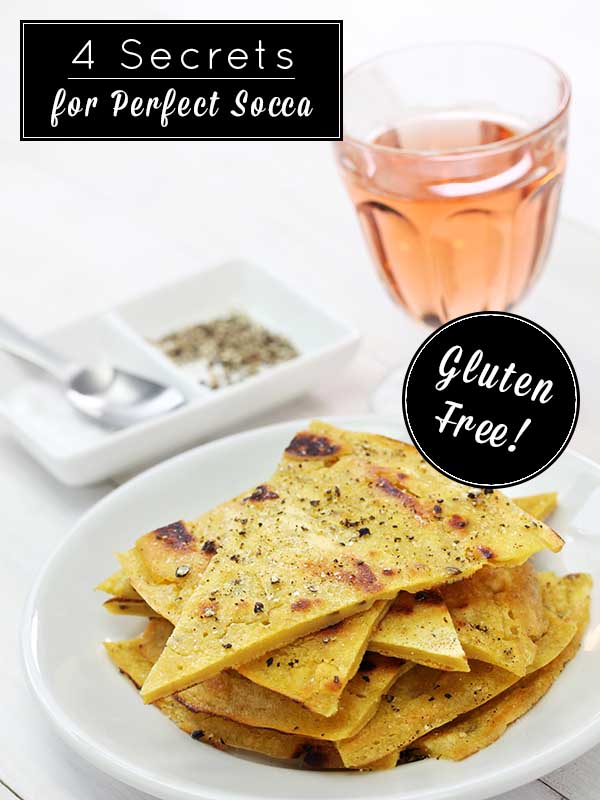 Socca – a traditional, gluten free French pancake – is such a fantastic, healthy snack or side dish!  Use my socca cooking tips below to perfect your own gluten free socca recipe.
I made my first batch of socca in 2011, and it was likely not even a little bit like what those good French folks have in mind when they talk (and eat) socca.  Socca is a lovely, unleavened, garbanzo bean flour-based flatbread of sorts.
Socca is served as street food in the sea coast region (it's "farinata in Italy," where it originated) and is vegan and gluten-free.  Although it fell a little short, my first attempt was still an attempt and it was followed by several more and now I feel like I have a good feel for the recipe and technique.  Chat with David Lebovitz and he'll tell you that socca is never quite the same made in your home oven, but, well, it's all I have and it's still always a tasty dish.
4 Socca Cooking Tips
I've tested, tried, failed, and succeeded. Learn from my adventures, so you can make that perfect socca every time. Start with a simple socca recipe like this one, and use my socca cooking tips to help you on your journey to naturally gluten free deliciousness.
1) Let your batter sit.
I typically make socca batter in the morning, cover with a non-terry kitchen towel, and let it sit while I'm at work.  I use cumin in my socca batter and I vacillate between using oil in the batter and leaving it out of the batter entirely (knowing that I will use it in the skillet).
2) Use a well-seasoned, well-loved cast iron skillet to make your socca.
Let it get nice and hot, pull the skillet out of the oven, ladle your batter on, and get it back under your broiler as quickly as you can.
3) Don't sweat an ingredient with which you're not familiar.
Garbanzo bean flour can be found in the health food section of your grocery store, or in your local Indian grocery as "besan."  Bob's Red Mill makes a great garbanzo bean flour, and they also make a garbanzo and fava flour combo, which is totally acceptable, although it will not be quite as garbanzo-beany as it could be.
4) Regardless of these tried-and-true tips, please don't be afraid to play around with your recipe.
For me, cumin is 4-eva in my socca, but maybe it's not for you.  Perhaps you'd like to try for a thicker, less crepe-y approach to your socca.  Do it!   Let's say you don't have a cast iron skillet…but maybe you do have a tart pan or a even a pie plate.  Take care of business and try 'em out.
Bonus Socca Cooking Tips
I must take this opportunity to mention Clotilde Dusoulier's socca tart topped with jammy-tart cooked apricots and thinly sliced seasonal zucchini (recipe in The French Market Cookbook), because it allows for a thicker batter appropriate for use as a crust.  And that allows for a little more room in the socca universe.
I've always made my socca pancakes a little thicker than recipes tend to call and have always felt that giving it a little heft makes it a delicious vehicle for sliced veggies, some salty roughly chopped olives, or a little mashed avocado.  I know, I know…blasphemy, but it's sooooo good.
Image Credits: Socca images via Shutterstock