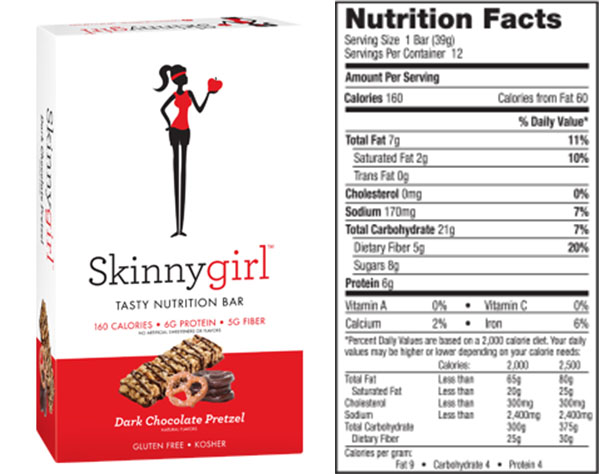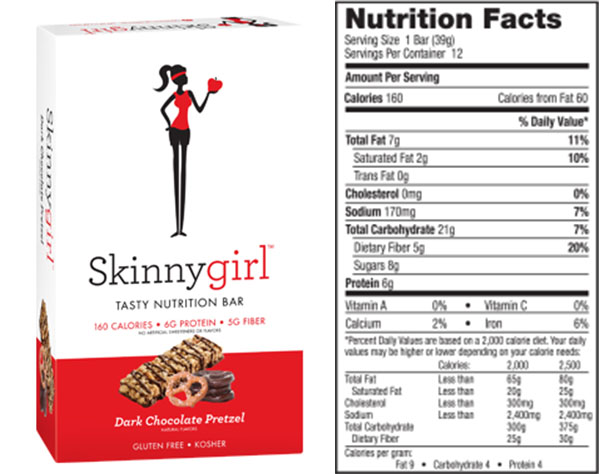 This morning I received a cryptic email.  The title read: "Are you ready to be a smarter snacker?" But, in the body of the email all there was was the phrase "#SGSnackSwap" and links.
Skinnygirl bars: Are they smarter snacks or a marketing gimmick? You decide.
Today Skinnygirl launched a new promotion, the Skinnygirl Snacks Swap.  The splash page promises:
At Skinnygirl, we love to snack, but we also know that not all snacks are created equal. It's about finding healthier alternatives to satisfy those 3pm sugar cravings and helping you make smarter choices. We like to think of it as "treating yourself healthy." … So give it a try and swap your favorite indulgences for a healthier treat with our Skinnygirl Snack Swap!
The site then has you describe your favorite snack (salty, nutty, chocolatey, etc.) which leads you to a few choices of presumably unhealthy choices (peanut butter cups, brownies, etc.) and then has you click through to "swap."
Now, Skinnygirl does something smart.  It gives you three choices:  #1 and #2 are recipes.  But, no surprise here, it gives you a third choice:  To buy a 12 count box of one of Skinnygirl Tasty Nutrition Bars. Skinnygirl bars are a new line of candy bars nutrition bars being sold as "healthier" and "smarter."
It doesn't take more than a glance at the nutrition label to see that Skinnygirl bars are not very "healthy."  For example, the Dark Chocolate Multi-Grain Pretzel Tasty Nutrition Bars contain 160 calories, 7 grams of fat, 8 grams of sugar, a small amount of iron (6% RDV) and the following ingredients:
Brown Rice Syrup (also called Rice Malt Syrup or simply Rice Syrup)  – basically just 100% glucose, the same sugar that raises blood sugar levels. Make note that this is the #1 ingredient.

Organic Peanuts
Chocolate Coating (Sugar, Fractionated Palm Kernel Oil, Cocoa (processed with alkali)) – Fractionated palm kernel oil is about 80% saturated fat and leads to increased LDL (bad) cholesterol.
Lactose
Palm Oil
Soy Lecithin (an emulsifier), Vanilla)
Gluten Free Rolled Oats
Soy Protein Isolate
Inulin – Consumption of inulin products can cause gastrointestinal distress.
Organic Cane Sugar
Almonds
Glycerine – Also found in many household products, including lotions, shampoo, and toothpaste.
Acacia Gum
Gluten Free Pretzels (Corn Starch, Potato Starch, Rice Flour, Soluble Corn Fiber, Palm Oil, Sugar, Salt, Cellulose Gum, Soy Lecithin, Yeast Extract, Sodium Bicarbonate, Sodium Acid Pyrophosphate, Citric Acid) – Corn syrup is being relabeled as "Soluble Corn Fiber" in foods and artificial sweeteners.  According to the manufacturer's website it "has a wide range of benefits" including it "Can be labeled as "soluble corn fiber," "corn syrup" or "corn syrup solids," making it extremely consumer friendly compared to other fibers currently on the market" and "Can be labeled or positioned as "natural" in the U.S. market."
High Oleic Sunflower Oil
Rice Starch
Sea Salt
Mixed Tocopherols
So, are Skinnygirl bars healthy?  They are only if your definition of healthy is relatively low in calories. If healthier means what I think it means (made from minimally processed mostly whole ingredients), then I say no. In fact, Cooking Light has a list of at least eight energy bars that are "healthier" (i.e. are made from mostly whole grains) than Skinnygirl bars. And don't get me started that these"multi-grain" bars contain no whole grains at all. Since when can you call food that contains nothing more than corn starch, potato starch and rice flour multi-grain?
Although the Skinnygirl bars may not have as much fat or calories as a Chunkie (a Chunkie has 173 calories, 10 grams of fat and 3 grams of protein if you're wondering), they come pretty darn close and they are still filled with highly processed ingredients with virtually no nutritional value.  If you want a "healthier" alternative to junk food go for a KIND Bar. They have less sugar, are GMO and use whole ingredients.