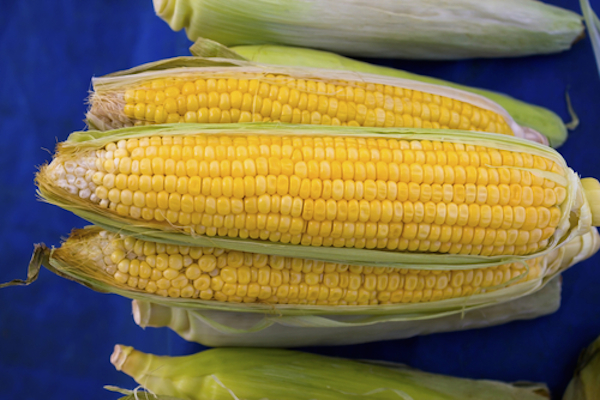 Ah, corn. Sweet, juicy, fresh, and an utter mess to prep. But shucking corn doesn't have to leave you standing in an explosion of silks. Check out this nifty kitchen hack the next time you're in the mood for this summertime treat, thanks to the folks at America's Test Kitchen — one of my favorite sources of kitchen know-how.
Step 1: Cut
Chop off the bottom of your ear of corn (that's the stalk end) removing about an inch of the bottom corn kernels, shuck, cob, and all.
Step 2: Nuke
Put the corn in the microwave, and turn that bad boy on high for two to four minutes. If you want, you can microwave longer to fully cook the corn to your desired doneness before shucking.
Step 3: Shake
Grab that cob from the uncut end, and shake it like a polaroid picture, squeezing at the same time. You'll want to do this with an oven mitt or glove. And you may need to use your knife or other kitchen utensil to hold the corn steady as it pops out of its cocoon — silk free!
Here's a short, sweet video showing how it works.
[youtube http://www.youtube.com/watch?v=35TsFXYfpB0?w=560&h=315]
And if you're wondering if there's a kitchen hack for cutting kernels off the cob, the answer is yes! Watch this quick video from Saveur, where they recommend using a bundt pan or angel food cake pan and holding the corn cob upright in the middle to cut. Not only can you easily cut off the kernels, but all (well at least most) of the juicy bits end up contained in the pan — not all over your kitchen.
Inspired? Here are a few recipes that will let you practice your new techniques:
On a related note: For those of you following my urban farm who are wondering if the corn we planted behind the pool has produced, the answer is yes and no. We have harvested actual cobs, but they taste like crap. Very starchy, not juicy, not sweet. We'll be researching, amending the soil, and trying again next year.
Enjoy!
Image Credit: Corn on the Cob via Shutterstock