After lots of research, I decided to sow my fava beans and bok choy directly into the garden when it's time to plant, so that just left Brussels sprouts, broccoli, and kale to start as seedlings. It turns out that we had a sweet seed starting tray in the shed, so I used that to plant these babies. If you don't have a starting tray, don't fret! There are lots of simple ways that you can use what you have to make recycled seed starting containers.
Since I'll need to know what's what when transplanting time comes, I made some more clothespin plant markers to label the rows of seedlings. When it's time to move the plants, I can clip these onto sticks to mark my beds and pots, too! Yay for versatility.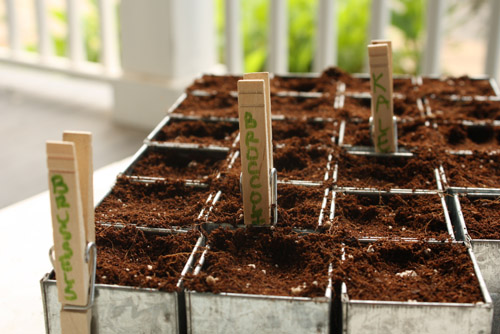 I planted the seeds in Burpee Organic Seed Starting Mix. It was $4 at the Lowe's near my house, and it's OMRI Certified, which means it's legitimately organic. The bag had more than enough soil for my little tray! I wonder if I can use it as potting soil, too? Does anyone know? There's a ton left over.
They sold a Scott's organic seed starting mix, too, but as my pal Mike at Urban Organic Gardener pointed out, Scott's is a major distributor for Monsanto's RoundUp, and I'm not too keen on giving that company any of my money.
Since these seeds need a cooler soil temperature than I can give them outside, they're living on a folding table under a window in my studio until it's time to transplant them:
From what I've read, it's going to take about 6 weeks for these guys to be ready to go into the ground, but I'll be keeping an eye and sharing their progress with you! Stay tuned for some serious squeeing when the first sprout busts out!
I'd love to hear from other folks who have started seedlings! This is my very first time growing from seed, so I'm not too savvy about how to care for them! How often should I water? Do they need any kind of soil amendment?