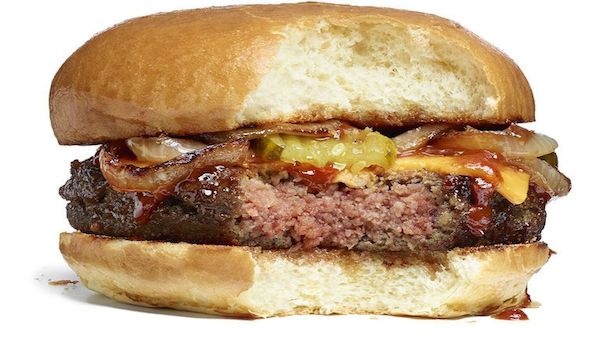 You know how the saying goes: you can lead a meat-eater to a millet-kale burger, but he will run away screaming "I need bacon!" Or something like that. But the vegetarian diet might be getting a little "meaty" help from a most unlikely (and kind of spooky) place: plant blood.
According to the Wall Street Journal, that's what Patrick Brown, a 60-year-old Stanford University professor says, and he's out to prove it with his startup called Impossible Foods aimed at making the vegetarian diet a bit meatier. Brown is using "bioengineered blood," which he says comes from plants, which has helped Brown create a "hamburger that looks, feels, tastes and cooks almost like the real thing."
"Livestock is an antiquated technology," Mr. Brown, a biochemistry scientist known for his genetic research, told the Journal. "The system that we use today to produce meat and cheese is completely unsustainable," he said. "It has terribly destructive environmental consequences."
But what is "plant blood" exactly?
The answer starts with a question: what gives meat its flavor? Heme, the molecule that when mixed with sugars and certain amino acids, gives meat its, well, meaty flavor. Once Brown and his team identified this, they got to work on blending plants, or rather, deconstructing them and separating out the plant proteins. "So far, it has functional versions of fat, connective tissue and muscle made from plant compounds," says the Journal. And the result is getting us closer to "meaty" vegetables. "The result is a dark red patty that looks and feels like raw ground beef and transforms as it cooks:
During a demonstration with the Journal, the patty gradually browned and caramelized on the grill, releasing oil from fats and producing the smell of cooked meat. In the mouth, the patty pulls apart the way burger meat does. The taste isn't perfect, though—arguably several rungs below a gourmet burger, and more akin to a turkey patty.
But don't go running to your local market for one of the "blood burgers" just yet. They're not on the market and presently, one would cost you about $20. But for people who simply don't appreciate the delicious simplicity of a veggie burger, this is a huge step in the right direction in making the vegetarian diet more attainable for the masses.
Image via Impossible Foods