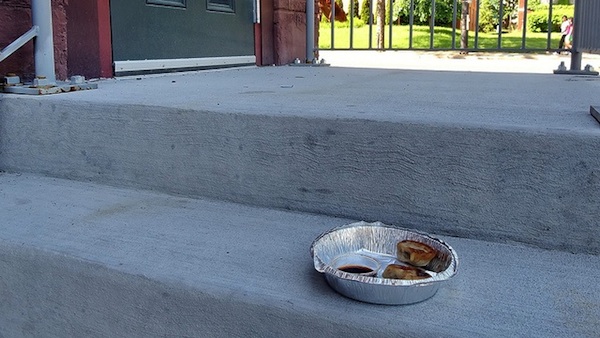 A few years back, my friend Deb and I learned of a hungry man who wanders the streets of downtown Toronto. His name is Murray.
Murray patronized a neighborhood Italian spot — not to come in, sit down, and order some pasta — but to inquire after any leftovers the staff might have saved for his next meal. The restaurant had Murray's back, the waitress explained, as she boxed up our leftover pizza for the guy, saying: "No problem! Murray will love this!" Nice.
Enter a new app designed to feed Murrays everywhere. LeftoverSwap, soon to launch, will help us connect our leftovers with someone who craves them.
How It Works
You make too much lasagna and cringe as you stare at the leftovers you don't want to eat for the next few days. Or you eyeball that mammoth burger your local pub thinks should serve one, wondering if you will shove it down or save half to take home, where it will surely end up in the trash. You grab your smartphone, snap a pic, and share it on LeftoverSwap for your neighbors to covet.
Your neighbors (or other hungry beings in your area) hear their stomachs grumble, but they don't have time or the means to make a delicious meal. They fire up LeftoverSwap, search for food in their area, select a meal, and arrange for pick-up or delivery.
You've just rescued your leftovers from the landfill.
Why It Helps
The LeftoverSwap team hopes to reduce food wasted in homes and restaurants. They also believe this app will connect neighbors and build a sense of community. From the LeftoverSwap web site:
40% of the food we produce goes to waste.
25% of us don't know our neighbors' names.
70% of us are overweight.
16% of Americans lack enough food for a healthy lifestyle.
99% of us don't need a second helping of the beef lo mein.

LeftoverSwappers don't feel the need to eat an enormous restaurant portion, and instead pass it on to a hungrier neighbor, in turn learning their name and avoiding excess calories. Through increasing the efficiency of each plot of land dedicated to food production, we can reduce our intensive use of natural resources, and reduce our expansion into sensitive environmental areas.
This idea may intrigue you — or you might find it exceedingly bizarre. Either way, it could be the cure for your food waste blues, and you could meet those mysterious neighbors as part of the deal. LeftoverSwap aims to release its app for the iPhone on August 30th, with the Android version soon to follow. Sign up on their site to be notified upon launch.
And be on the lookout for my leftover spaghetti sauce — it kicks butt!
Image Credit: Mark Turnauckas via flickr/CC