Beginning next year, you won't see Styrofoam trays of veggies in grocery stores, thanks to an expanded San Francisco Styrofoam ban.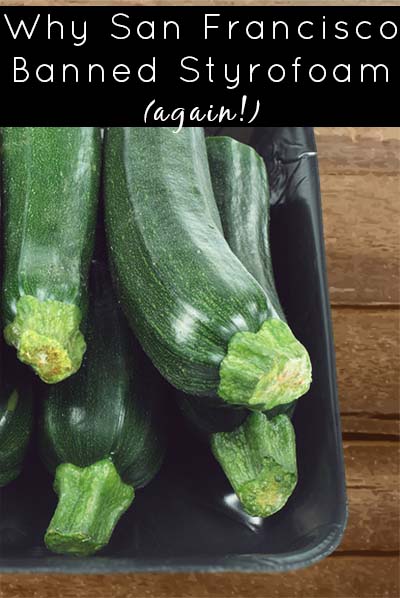 In good news for people and the environment, San Francisco yet again proves itself to be one of the most progressive cities in the US when it comes to waste. In a decision yesterday, the city voted to eliminate the use all polystyrene for packing materials (stupid packing peanuts), day use coolers, trays for meat and vegetables, and marine uses. The expanded San Francisco Styrofoam ban takes effect on January 1, 2017. This is part of the city's "zero waste" by 2020 goal.
Related: 6 Grocery Stores that are Packaging Free
SF Says No to the Foam (Again)
This is actually an expansion of a 2007 San Francisco Styrofoam ban that prohibited the use of polystyrene in to-go food containers. The ban on food containers is actually a double benefit, in my opinion, because it not only reduces our need for polystyrene, but it means that all take out food containers are actually compostable in San Francisco's progressive municipal composting system. There is also reason to suspect that having food in styrofoam is dangerous for human health, whether you're eating out of it, packing food in it, or making the containers at the factory.
Of course, the plastic-on-the-brain idiots behind the American Chemistry Council, the trade group for chemical makers, opposed the city's ban, noting that styrofoam has advantages over compostables and other options because it can be recycled and 'reduces carbon footprint' because it is so light to transport. In fact, this was the reason the foam ban was overturned inNew York last year.
Samantha Sommer, a project manager with Clean Water Action California, notes in the MJ article, compostables are not the silver bullet either, as they take resources to make and process as well. What really is the solution to our plastic lifestyle? Bringing your own cups and reusable containers to restaurants and coffeeshops, reusing shopping bags, and generally reducing our use of single use plastics.
Related: How our Trash Affects the Whole Planet
Hawaii Tries to Ban Styrofoam
In related news, the city council of the Big Island recently rejected a bill that would ban polystyrene. As reported in West Hawaii Today, despite dozens of activist groups, like Surfrider Oahu, and residents testifying for the ban, a 4-4 vote killed the bill. The bill will be revisited next year when a new council comes into office.
Why didn't they vote for the ban? The idiotic reasoning from Puna Councilman Danny Paleka was that "(Retailers) are not the ones throwing it in the water," which is terrible argument as leaves businesses unaccountable for externalized costs. Other opponents have said that there are too many added costs for alternative containers, a loss of jobs for an Oahu-based polystyrene plant, and the loss of individual choice.
Related : Can Mealworms help eliminate Styrofoam? 
Why Should we Care about Styrofoam Bans?
Not only do polystyrene products rely on fossil fuel and chemical-intensive resources to be created, it is dangerous to humans and our ecosystems throughout its entire lifetime! How is styrofoam bad for us? This is best explained by Science Alert:
+ Polystyrene is incredibly slow to break down in landfill, and as it degrades ever. so. slowly, it leaches chemicals into waterways and soils for hundreds– if not thousands– of years to come.
+ There are also concerns that the material could impact human health by containing hormone-disrupting chemicals.
+ And it's a terrible story for marine life too: 86 percent of disposable plastic that isn't recycled ends up in the ocean where it breaks down easily into microplastics that are distributed through the water column and ingested by marine organisms, fish, and then, eventually high level predators like humans.
Sources: Mother Jones, West Hawaii Today, Science Alert
Republished with permission from Green Living Ideas. Images: Zucchini via Bigstock;background vector designed by Creative_hat – Freepik.com.