I'm not a white wine drinker but when its hot outside a robust red wine just doesn't hit the spot. At times like that I reach for a rosé.
Rosé wine is just the right combination of cold and red. And, gone are the days of cloyingly sweet "White Zinfandel". Now adays you can get terrific rosés from around the globe. As an added bonus, they often go well with whatever you are serving for dinner be it barbeque or a big family style pasta dinner. Here are some off the beaten track favorites.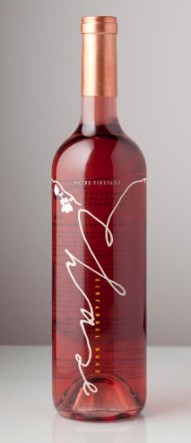 Known for their smooth yet robust Hayne Vineyard Zinfandels, Chase Family Winery also makes a limited amount of Zinfandel Rosé every year. The Chase Hayne Vineyard Estate Zinfandel Rosé has a lovely fruit profile with soft acidity that makes it perfect for sipping during cocktail hour or as it is with summer fare. Available from Chase Family Cellars.


This next selection comes from one of favorite sustainable Wineries, the Hess Collection. The Hess Small Block Series Syrah Rosé is light and refreshing with a smooth, elegant finish. This dry Rosé is a blend of Syrah from the Stagecoach vineyard (located in the mountains above Napa's Stag Leap District) and Petite Sirah from the Allomi vineyard in Northeast Napa Valley. Grapes from these vineyards are sustainably farmed. It too is perfect as an aperitif on your patio or as an acommpaniment to to your dinner table. Available from the Hess Collection.


W. Donaldson Rose Cuvee Sonoma County NV This delightful robust and rich sparkling rose is made of 75% Pinot Noir and 25% Chardonnay. Made in the same style as Champagne and aged for 24 months on the yeasts, this wine has real depth. Made by Wayne Donaldson, the former head winemaker for Chandon and Moet Chandon. If you want a sparkling that can pair with food, this is it. Bubbly roses are known for their richness and versatility at the dinner table. It is available exclusively from NakedWines.com.


If you need a rosé right now, the Francis Ford Coppola Sofia Rosé is a light wine that pairs elegantly with food. It is a unique blend of Monterey County Syrah, Pinot Noir and Grenache grapes that is refreshing and perfect for sipping on a lazy afternoon. The great thing about Sofia Rosé is that it is available in markets everywhere.