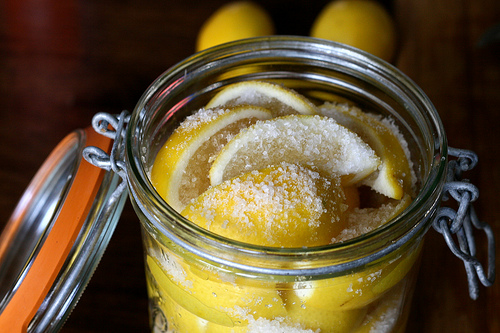 Preserved lemons are one of my favorite secret ingredients. They're made by packing whole lemons in salt and their own juice. After a month, the lemons are shrunken and entirely edible (except for the seeds of course). Being able to eat the pith and the skin gives preserved lemons a more intense lemony flavor than fresh lemon juice and zest.
You can find preserved lemons at global food stores or specialty stores. When buying preserved lemons, I like Moroccan Beldi lemons. You can also easily make your own preserved lemons at home.
Preserved lemons are absolutely necessary in North African dishes like tagines. But they can also turn simple roasted or sauteed vegetables into something interesting and exotic. Give them a try in my vegan barley salad.
Roasted Carrot, Preserved Lemon, and Barley Salad
Makes 6 servings
1 1/2 pounds carrots, peeled and chopped into bite-sized coins
4 tablespoons olive oil
3-4 small preserved lemons (or 1-2 large ones – use as many lemons as you need to fill a 1/4 cup with peel)
1 large onion, chopped
1/2 teaspoon ground cardamom
1 3/4 cups pearl barley
2 cups vegetable stock (reduced-sodium)
1 cup water
1 tablespoon fresh lemon juice
1 tablespoon rice vinegar
1 cup chopped, fresh flat-leaf parsley
1/2 cup toasted almond slivers
1/2 cup chopped, pitted dates
Sea salt and freshly ground black pepper
Roast carrots:
Preheat oven to 400 degrees. Place carrots in a bowl and toss with 2 tablespoons of the olive oil. Sprinkle with salt and pepper. Transfer carrots to a cookie sheet and roast for 15-20 minutes, until just barely tender. Transfer carrots to a plate to cool to room temperature.
Cook barley:
Heat 2 tablespoons of oil in a 3- to 4-quart heavy pot over medium high heat. Cook onion until fragrant and golden, about 5 minutes. Add cardamom and stir for a few seconds until combined with onions.
Add barley and cook, stirring until well coated with oil, about 2 minutes more. Add broth and water and bring to a boil. Reduce heat and simmer, covered, until all of the liquid is absorbed and barley is tender, 30 to 40 minutes.
Remove pot from heat and let stand, covered, for about 5 minutes. Transfer barley to a reserved shallow baking pan and spread to cool, uncovered, to room temperature, about 20 minutes.
Prepare lemons:
While the barley cools, halve preserved lemons and scoop out flesh, keeping both flesh and peel. Dice enough peel to measure 1/4 cup. Put lemon flesh in a sieve set over a bowl and press with the back of a spoon to extract juice.
Assemble salad:
Transfer cooled barley and carrots to a large bowl. Add preserved lemon peel and juice, fresh lemon juice, vinegar, parsley, almonds, dates, and salt to taste. Toss to mix well.
This salad can be made 1 day ahead and stored covered in the refrigerator. I like to make this salad on the weekend and then bring it to work for lunch during the week. It's also a great candidate for fall barbecues and picnics. Return to room temperature before serving.
Image courtesy of Chiot's Run via a Creative Commons license.