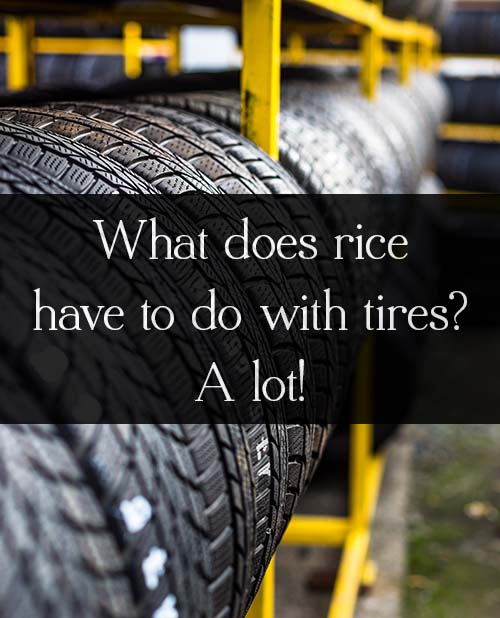 Rice milling produces around 20 million tons of ash per year, and Goodyear has plans to divert it from landfills by using it to make rice husk ash tires.
Scrap tires represent a pretty major success on the waste front: according to the EPA, "…markets now exist for 80.4% of these scrap tires-up from 17% in 1990. These markets—both recycling and beneficial use—continue to grow." That doesn't mean that we no longer need to worry about the environmental impact of these products; rather, we need to take a look at other points in the production and consumption cycle of these ubiquitous items.
Related: 5 Recipes for Cooking with Leftover Rice
Adding silica to tires is one way engineers have reduced their environmental impact: using this material"…as a reinforcing agent in tire tread compounds" reduces rolling resistance when compared to the more traditional material carbon black. But silica is generally mined. After a two-year testing period, Goodyear will be using silica derived from a much more sustainable source: rice husk ash.
Rice husk ash tires?
Consider this: the Food and Agriculture Organization of the United Nations (according to Goodyear) notes that farmers harvest over 700 tons of rice each year, and that creates massive amounts of rice husk waste. Most of its burned for energy… but then there's leftover ash. Goodyear will use this ash as a silica source for tires made in it Pulandian, China, factory (which are also sold in the country).
Given the amount of this material available, this could become huge for the tire industry, as well as other silica users. Know more about the use of silica in industrial settings? Or the sourcing of rice husk ash? Share your thoughts with us.
You can check out Goodyear Rubber and Tire Company's press release about the rice husk ash tires right here.
---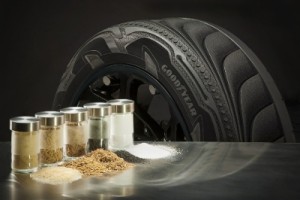 The Goodyear Tire & Rubber Company has reached a supply agreement with Yihai Food and Oil Industry in China for silica derived from rice husk ash. Goodyear will begin using the silica this year in a consumer tire that will be manufactured in its factory in Pulandian, China, and sold in China.
Goodyear has tested silica derived from rice husk ash over the past two years at its Innovation Center in Akron and found its impact on tire performance to be equal to traditional sources.
"Sustainability is a cornerstone of Goodyear's innovation efforts," said Chairman and Chief Executive Officer Richard J. Kramer. "This new silica benefits the environment in many ways: It reduces waste going into landfills; it requires less energy to produce; and it helps make tires more fuel efficient."
Each year, more than 700 million tons of rice are harvested worldwide, according to the Food and Agricultural Organization of the United Nations, and disposing of the rice husks is an environmental challenge. As a result, husks often are burned to generate electricity and reduce the amount of waste shipped to landfills. While this ash has been converted to silica for several years, only these most recent processes created a silica of a high enough grade to use in tires.
Silica is used as a reinforcing agent in tire tread compounds. Compared to carbon black, a traditional reinforcing agent for tires, silica reduces rolling resistance. Lower rolling resistance, in turn, improves a car's fuel economy. It also can have a positive impact on a tire's traction on wet surfaces.
In addition to the agreement with Yihai, Goodyear is negotiating agreements with additional suppliers. Financial details of the agreements are not being released.
Commentary republished with permission from Sustainablog; image via Shutterstock