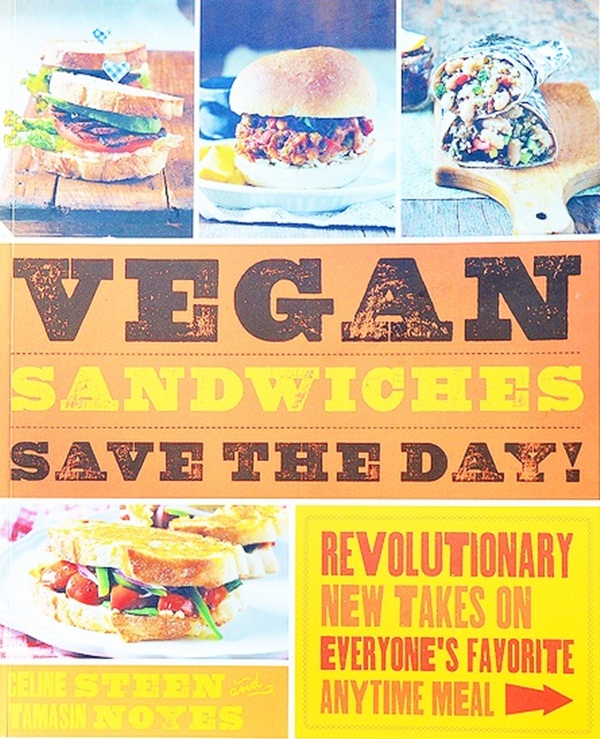 Calling all sandwich-loving chefs: don't forget to enter our giveaway contest, to win a copy of this excellent cookbook!
Exerpts from the full review, first published here on EDB last week:
If you only think of peanut butter and jelly when you hear 'vegan sandwich,' it's time to expand your horizons: Vegan Sandwiches Save the Day offers a smorgasbord of deliciously creative recipes, destined to forever revolutionize your approach to the (not so) humble sandwich! …

Chapters include Rise and 'Wich (breakfast sammies), Going Topless ("bread at the bottom, filling on top: rated R for Ravenous!"), Keep it Cool (chilled make-ahead sandwiches), Classics and Deli Delights (olde-tyme lunch counter flashbacks, vegan-style), Bold New Ground (adventurous international flavors, to take you boldly where no sandwich has taken you before!), and Sweetness Follows (sandwich-style desserts, such as the indulgent Oreo Wafflewich).

There's also a good chapter on Building Blocks: staple recipes for fine sandwich-building, such as brioche, moo-free seitan, no-cluck cutlets, gobbler slices, and tempeh bacon…

Though VSSD does offer some good basic recipes (such as seitan, bread, and many spreads and sauces), to me that's not its main strength: this cookbook really shines in its ability to make the common sandwich an exceptional event, and to revel in indulgently delicious vegan fare.

VSSD offers tremendous diversity of flavors and cooking styles, plus consistently delicious results. In short, I recommend it!
Don't miss out on your chance to win! Go here for contest details, full book review, and 3 delicious sample recipes from VSSD. We'll announce the winner on Monday, November 26.
Good luck!
Image credit: Creative Commons photo by veganLazySmurf.