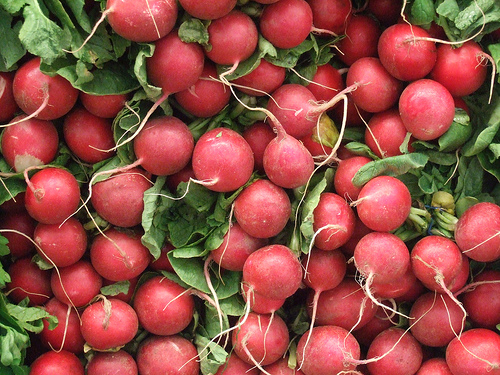 To me, nothing says spring like radishes. These cool-weather crops can be grown weeks before the last frost, and even earlier in a greenhouse or cold frame.
Radishes are a perfect vegetable for first-time gardeners because they're so quick and simple to grow. They germinate fast, mature fast, and take up less space than almost anything else in your garden.
Even experienced gardeners love radishes because they can be sown as a nurse crop to mark rows and provide shade to slow growing parsley, carrots, and parsnips.
But no matter how you use them in your garden, radishes are always delicious. They're crunchy, juicy, spicy, and add great color to dishes.
Although my own garden is still in the planning stage, I've been buying up radishes from local farmers whenever I see them. Here are some of my favorite ways to use them in the spring.
8 Radish Recipes
1.  Sauteed Radishes and Sugar Snaps With Dill (vegetarian) – Very spring-y.
2.  Buttermilk Farro Salad Recipe (vegetarian) – Radishes aren't the star here, but they add a wonderful zippy contrast to nutty farro tossed with a creamy dressing.
3.  Seared Radish Crostini – If you like anchovies, then you'll love these colorful toasts.
4.  Roasted Radishes with Brown Butter, Lemon, and Radish Tops (vegetarian) – Roasting transforms radishes from spicy to sweet and mellow. And I always love serving root vegetables with their greens.
5.  Radish Salad (vegan) – The best way to enjoy radishes done simply.
6.  Frisée and Radish Salad with Hazelnut Dressing – If you think you don't like frisée, then this riff on the classic bistro salad might change your mind.
7.  Bread-and-Butter Radishes (vegan) – You've probably heard of bread-and-butter pickles made from cucumbers, but this radish version is perhaps even more fabulous. Pickling mellows the peppery flavor of radishes, but retains their crunchiness.
8.  Sriracha-Buttermilk Dressing on Fresh Radishes (vegetarian) – Because you have to try sriracha on everything at least once, right?
How do you like to eat spring radishes? Share your favorite recipe as a comment!
Image courtesy of Worldharmony via a Creative Commons license.