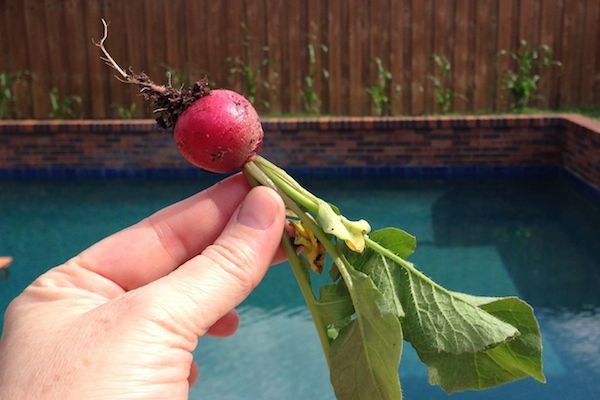 Dear Radish,
You are the sweetest vegetable in my backyard urban farm. So I decided to write you this love letter. Here's why you're the apple of my eye.
Even I Can Grow You
Radish, when I stuck your seed in the dirt, I had high hopes, but I also had my doubts. My past relationships with veggie seeds and seedlings have been so disappointing. You made me so joyous when you bared your little green leaves. And you grew so dang fast. When I saw your pinkish red curves breaking through the dirt, I fell madly in love. And the day you were ready to be all mine, I knew I'd keep planting you for the rest of my life.
You Have Only 1 Calorie but Tons of Crunch
Why would I want chips when I have you, my gorgeous little radish? A little time in the frig makes you even more desirable (if that's even possible). You're the perfect, guilt-free afternoon treat. You fill me up, you aid my digestion, and you detoxify me. You're just so good for me in so many ways.
I Heart Your Spicy Radish Taste
You look and taste beautiful without a lot of effort. When I give you an olive oil massage and roast you in the oven (at 450 degrees for about 20 minutes with a bit of salt and pepper), you are so sweet. When I slather you in butter and dip you in salt, I'm in heaven. And when you join our friends in the salad bowl with a light vinaigrette, you're the one that adds the perfect bit of crunch and spice. Don't even get me started on how delicious you are pickled. Holla!
You've boosted my growing confidence without even knowing it, and you've delighted my taste buds. I can't wait to spend a lovely summer enjoying your company.
Love always,
Mary
p.s. What other ways would you like to be prepared? Let me know, and we'll make it a date!
Image Credit: Mary Gerush