For years we've been told that quinoa farmers suffer because of our ancient grain obsession. Good news quinoa lovers: it's OK to eat quinoa again!
---
But it turns out that it's just not true.
A recent article on NPR's The Salt examines this often controversial food, and while generally the news is good, it warns us of some reasons we still need to be mindful of how our local eating habits affect the rest of the world.
In case you missed it, a few years ago many reputable news sources were claiming that we were harming the economic status of farmers in Bolivia, Ecuador, and Peru because our newfound interest in their staple food: quinoa.
Quinoa is a unique plant related to beets and chard. It grows at very high elevations, and the mountainous regions of Andean South America are perfect. Traditional farmers have spent decades growing this nutritious and versatile crop.
But then news broke that our interest in this calcium-rich pseudo-grain was harming indigenous farmers, making the crop prohibitively expensive. A 2013 article from Huffington Post is a good example of the questions that seemed to surround this commodity. But Sami Grover at Mother Nature Network explained how our quinoa habit is actually not hurting the farmers and residents of these countries. In fact, it may be helping them.
Newer studies confirm that the boom in quinoa consumption around the world has actually been pretty good for economic growth in these South American nations.
Marc Bellemare, an agricultural economist at the University of Minnesota, and Seth Gitter, an economist at Towson University in Maryland just published studies that also defend quinoa's role in the Peruvian economy. The study, based on data from a government survey of about 22,000 randomly selected households in Peru, found good news about quinoa farmers and quinoa consumers.
With the help of Johanna Fajardo-Gonzalez, a Ph.D. candidate at the University of Minnesota scientist, the researchers sifted through 10 years of household data from Peru. "The working paper does not mince words: 'The claim that rising quinoa prices were hurting those who had traditionally produced and consumed it [is] patently false.'"
"It's really a happy story," Seth Gitter tells [NPR]. "The poorest people got the gains. Rich people had to spend a bit more, and did."
Perhaps most importantly, the idea that quinoa farmers have suffered nutritionally as a result of the growing quinoa boom also proved unfounded. There were suggestions that as poor farmers were selling off their quinoa rather than consuming it themselves, their nutrition might have declined because they need to buy cheaper, less nutritionally dense food. But this recent research proves that those ideas were unfounded.
However, there are Still Reasons for Concern
One of the issues we're now seeing in the quinoa market is the dwindling of crop variety. This is something  we've seen in crops like wheat, corn, and vegetables over the past 100 years. As the quinoa market grows, farmers are only growing certain types of quinoa for international trade, and they're abandoning some traditional varieties of the crop.
That could put quinoa's future in jeopardy. Fewer available varieties makes the crop less able to adapt to a changing climate.
Related: Biodiversity Loss in Our Food Supply
This is the reason we're seeing a resurgence in heirloom varieties of wheat, like einkhorn, kamut, and spelt. Maintaining these ancient varietie is important to global food security, as these varieties are bred to be tolerant of harsh weather or other conditions we may face as climate change becomes more extreme.
Another issue facing quinoa farmers is soil degradation due to the increased demand. They're unable to leave as much land fallow to rest between plantings. Ensuring that quinoa farmers adopt sustainable farming practices can ensure better growth and help improve the longevity of their fields.
Related: The Seed Bank Could Save the World's Food Supply
Ensuring that you're choosing organic and fair trade options will help prevent pricing issues and support sustainable farming practices, which benefit both farmer and consumer. Alter Eco makes multiple varieties of quinoa in awesome new sustainable packaging. The company began working with Bolivian farmers as early as 2005. Near East is another brand making fair-trade quinoa products.
How to Eat More Quinoa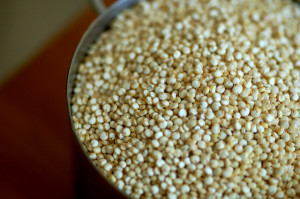 Need some help including quinoa in your diet? Check out our Editor's simple guide for how to cook quinoa here, and use it in any of these easy, awesome quinoa recipes from across our network.
+ Kale, Quinoa and Couscous Salad
+ Rice Cooker Quinoa Breakfast Cereal
+ 10 Killer Quinoa Salad Recipes
+ Quinoa Stuffed Poblano Peppers
+ Easy Quinoa Pilaf
+ Quinoa Risotto
Quinoa plant image from Michael Blatherwick; quinoa grain image from Jacqueline, Flickr Creative Commons