Putting a healthy meal together can be difficult on a busy weeknight. These quick, easy, healthy meals make even weeknight cooking a breeze.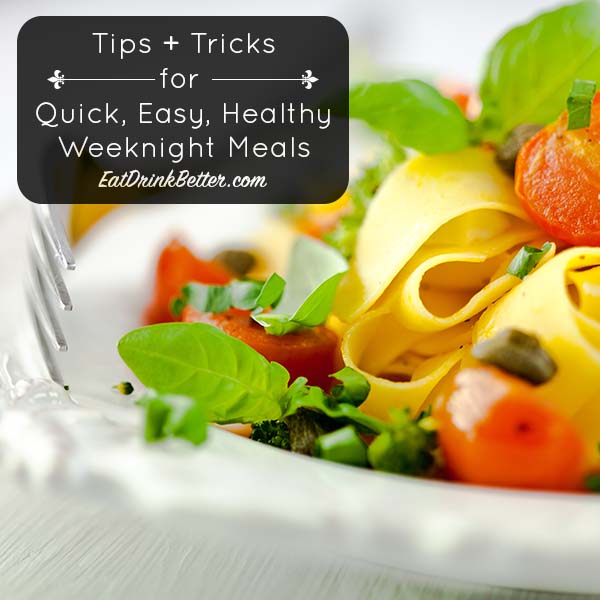 Convenience and health don't always go together on our plates. So much convenience food is highly processed and loaded with salt, fat, and added sugars. Coming up with quick, easy, healthy meals doesn't have to be daunting, though. These are some of my favorite weeknight eats, plus tips to make your time in the kitchen more efficient.
Convenience is good.  Convenience is great.  I'm a very, very big fan of convenience.  I have two kids, a full-time job, and a deep, deep love of pie (and very few standards when it comes to said pie).
Related: Weekend Cooking for Weeklong Eats
I dive into the Fountain of Convenience regularly. But convenience products, generally speaking, aren't necessarily the best for us, both in terms of healthy, body-blessing ingredients and in long-term effect.
That said, I'd like to talk a little bit about how I cook quick, easy, healthy meals on your average weeknight. These recipes and tips will keep you from pulling your hair out when you're trying to get some delicious dishes on the table as speedily as possible.  Behold, my tips for healthy weeknight cooking (with convenience!).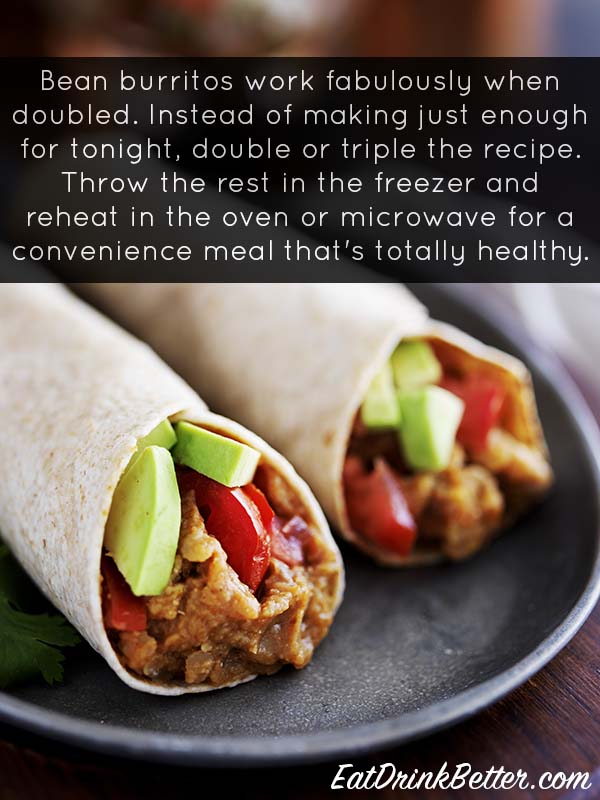 5 Tips for Quick, Easy, Healthy Meals
1. The secret to easy pasta or rice with veggies. Throw extra veggies into pasta water or in to steam with your rice every. Single. Chance.  You get.  It make a simple dish spaghetti with olive oil and garlic even healthier.  When the pasta is very close to being done, just toss in a handful of broccoli florets, a couple bunches of kale, a bag of baby spinach, or a pint of cherry or grape tomatoes.  Easy-peasy.
2. Meet The Vegan Stoner. My family's favorite recipe is their Falafel Pie.  I make use of pre-made foods for the crust and hummus filling and add delicious cucumber, tomatoes, yogurt, and olives to top it.  Works like a charm.
3. Double batches are your friend. I double-batch as much as humanly possible. Bean burritos work fabulously when doubled. Instead of making just enough for tonight, double or triple the recipe. Throw the rest in the freezer and reheat in the oven or microwave for a convenience meal that's totally healthy.
4. Prep, prep, prep. When you get seasonal veggies, prep and freeze them.  Corn and peppers are favorites in the summer.  Peppers can be diced or even frozen whole.  Corn can be cooked (boil for 3 minutes in a large covered pan on your stove-top, it needs no more time than that) and sliced from the ear when cool.  Freeze in air tight containers for delicious summer corn goodness all year 'round.  I also like to slow-roast tomatoes – get my recipe below!
5. When in doubt, make a sandwich.  Everybody loves a good sandwich, especially my husband and punks. And a sandwich doesn't have to be a fancy affair. Plus, sandwiches are a great meal for little ones to make when they're moving toward learning to prepare their own food.  My four-year-old needs very little supervision, just assistance with spreads and cutting the finished product. Ways to get fancy-pants with your sandwiches: toast 'em (even PB&J is fancier when toasted), add some interesting-flavored prepared hummus, or throw in some fresh and healthy additions like roasted red peppers, capers, roughly chopped kalamata olives, giardiniera, or a handful of fresh herbs.
Life is crazy-busy for everyone and feeding yourself and your family when everything homemade seems to take hours of time and gallons of energy can be difficult.  And daunting.  Hopefully these tips for quick and easy dinners will make your life a little more convenient.  And delicious.
Image Credits: Quick, Easy, Healthy Meals photos via Shutterstock