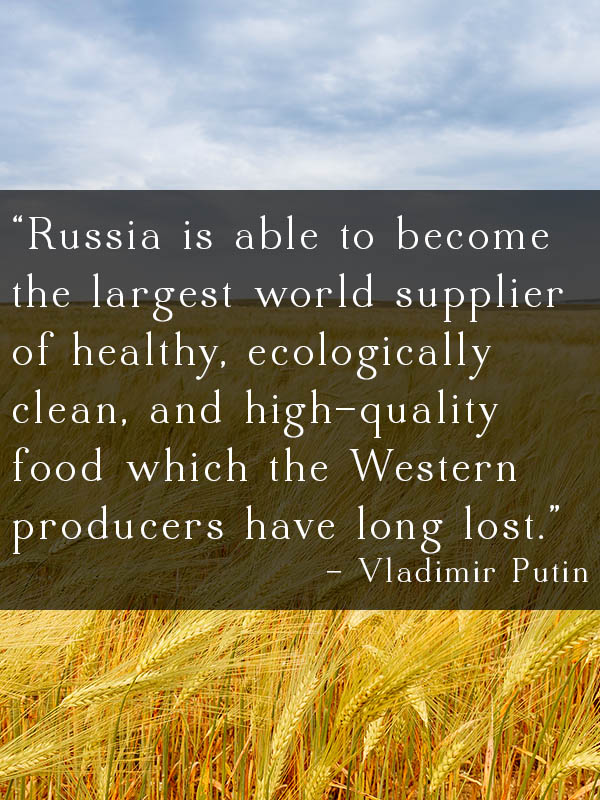 Vladimir Putin delivered his annual parliamentary address this week. He declared that Russia should not only begin producing all of its own food but become a world leader in organic agriculture. You can watch the portion of his address about agriculture here.
Putin's address included some strong talking points about ISIS and Turkey, so his remarks about organic agriculture have flown somewhat under the radar. What he's proposing is huge, though. Russia has close to 100 million acres of unfarmed land, and this isn't barren tundra. It's fertile, farmable land.
Not only does Russia have all of this arable land, but the country banned GMO food production earlier this year. That means Russian farmers can cultivate any crops they want without worrying about GMO cross-contamination from neighboring fields.
"We are not only able to feed ourselves taking into account our lands, water resources," Putin said in his address, "Russia is able to become the largest world supplier of healthy, ecologically clean and high-quality food which the Western producers have long lost, especially given the fact that demand for such products in the world market is steadily growing."
Wealthy westerners want organic, non-GMO food. Food that isn't treated with the most toxic pesticides on the planet. And Russia is in a unique position to provide it.
He wants the country to become self-sufficient in food production by 2020. That could be bad news for landowners and lessees who aren't currently doing much, if any, farming on their property. He also talked in his address about possibly confiscating land for resale to farmers if it's not being sufficiently farmed now. But who decides what's sufficient?
Putin set some ambitious goals for Russian food production. Are they attainable without sacrificing his people's civil liberties?
Image Credit: Russian Wheat Field photo via Shutterstock