Does the blustery weather have you craving fall flavors? Try some of these delicious pumpkin recipes!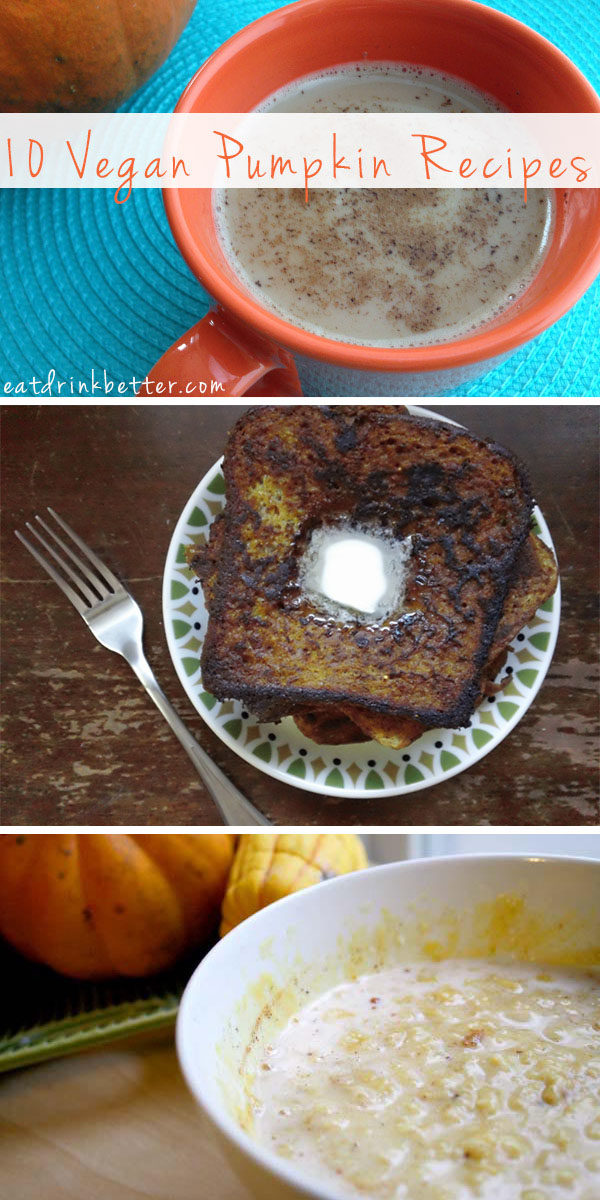 Wow, is it fall out there or what? Here in Atlanta the weather really broke over the weekend. Whenever the weather starts changing like this, I start craving pumpkin recipes.
Did you know that most canned pumpkin isn't made from proper pumpkins? It's true! When you buy a can of pumpkin puree, you're as likely to be cooking with other sorts of winter squash. The good news is that all of those orange veggies share many of the same health benefits.
Pumpkin, butternut squash, and acorn squash are all excellent sources of vitamins A and C. They've also got plenty of fiber and are low in calories. So grab a gourd or a can of "pumpkin," and check out some of these tasty, vegan pumpkin recipes!
10 Vegan Pumpkin Recipes
1. GMO Free Pumpkin Spice Latte – Most commercially-made pumpkin spice lattes don't contain any pumpkin. What they do contain are plenty of GMO ingredients. Boo! This year, why not make your own instead?
2. Vegan Pumpkin Bread – Start the day off with some dairy-free pumpkin bread. Maybe spread with a bit of almond or cashew butter? Eh?
3. Pumpkin Walnut Pate – When you think pate, you probably think "goose liver," but there are plenty of plant-based pate recipes out there. This one is particularly awesome.
4. Pumpkin Pie – Most pumpkin pie recipes call for sweetened, condensed milk, but you don't need this processed food to get a seasonal pumpkin pie on the table.
5. Pumpkin Green Smoothie – Get your smoothie on in seasonal style!
6. Easy Pumpkin Oatmeal – If pumpkin bread isn't your thing, try this recipe to put a little squash into your morning.
7. Massaman Curry Pumpkin Hummus – Need I say more?
8. Pumpkin Soup with Coconut Milk and Curry – Pureed pumpkin makes this cozy soup extra rich and creamy.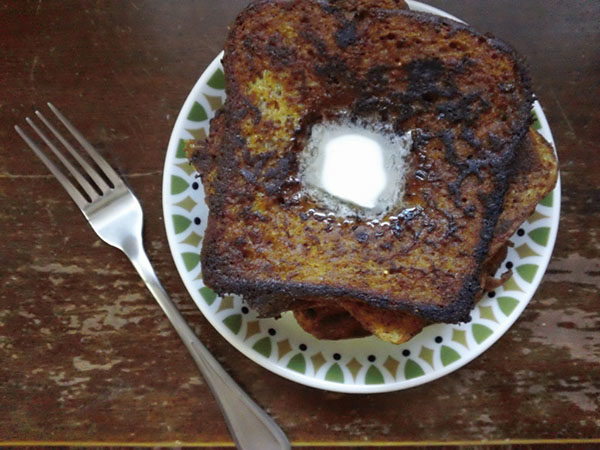 9. Vegan Pumpkin French Toast – Wouldn't this make a nice main event for a fall-themed brunch?
10. Vegan Pumpkin Oatmeal Cookies – Treat yourself to some dairy-free cookies packed with fall flavors!
Do you have any favorite vegan pumpkin recipes? I'd love to hear yours in the comments!