Country of Origin Labeling? Not if Big Pork has its way.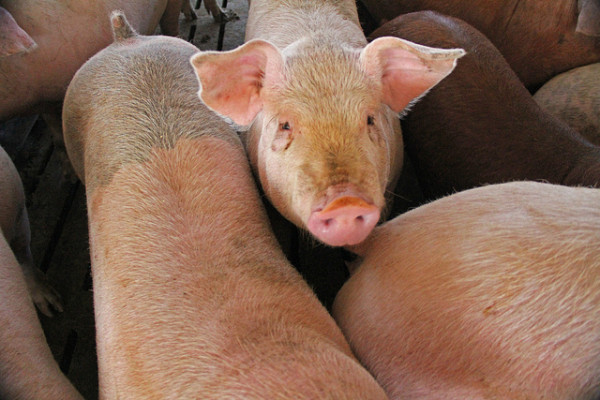 National Pork Producers Council (NPPC) sent more than 100 of America's pork producers and economic leaders to Capitol Hill to meet with Members of Congress to discuss, among other things, the importance of repealing Country of Origin Labeling. Apparently, pork producers feel that they are at risk of suffering "WTO authorized retaliation.
Related: Pig Farming in Iowa Pollutes Local Water with Poop
According to an op-ed from the NPPC, the group is pressing the United States to address its mandatory Country of Origin Labeling (COOL) law to avoid trade retaliation from Canada and Mexico. The Country of Origin Labeling Act requires all meat, fish, chicken and produce to be labeled at the grocery store with an accurate country of origin and more than 90% of US consumers favor it.
The World Trade Organization last fall ruled that the US meat labeling law violates US international trade obligations by discriminating against Canadian cattle and pigs and Mexican cattle.Country of Origin Labeling requires meat to be labeled with the country where the animal from which it was derived was born, raised and slaughtered. The United States appealed that decision, and the WTO is expected to rule on it by May 18. Should the international trade body reject the appeal, Canada and Mexico would be allowed to place retaliatory tariffs on U.S. imports, including pork and beef.
The pork group argues that the Canadian and Mexican retaliation lists will not be limited to pork and beef, but also non-agricultural products –bakery goods, rice, apples, wine, maple syrup and furniture — will likely be included.  NPPC also believes that the loss of the Mexican and Canadian pork markets, valued at $2.4 billion, could cost over 16,000 non-farm jobs.
"Congress must be prepared to repeal the offending parts of the statue to bring the U.S. into compliance with WTO rules. Congress should not allow retaliation against pork producers and other sectors of the U.S. economy."
The industrial US pork industry is huge. More than 68,000 pork producers marketed more than 111 million hogs in 2013, and those animals provided total gross receipts of over $20 billion. Overall, an estimated $21.8 billion of personal income and $35 billion of gross national product are supported by the U.S. pork industry. All told, the U.S. pork industry is responsible for more than 550,000 mostly rural jobs in the United States.
The ability to import US pork is a top priority for large pork producers. Exports add significantly to the bottom line of each US pork producer. Exports of pork and pork products totaled 2.18 million metric tons in 2014, representing about 27% of production (and adding more than $63 to the value for each hog marketed.) In 2014, U.S. pork exports were valued at a staggering $6.67 billion, up from $394 million in 1989 when the U.S.-Canada Free Trade Agreement was implemented.
But, not all pork producers are in favor of repealing COOL. The Made in the USA Foundation led a coalition of groups, including the Ranchers-Cattlemen Action Legal Fund representing 5,400 ranchers and cattlemen in 45 states and Mile High Organics, in filing suit against the World Trade Organization, the U.S. Trade Representative and the Secretary of Agriculture to keep COOL in force.
The lawsuit seeks a court order declaring that the World Trade Organization does not have the authority to override US law. According to Made in the USA, the WTO does not have the right to interfere with domestic laws of the United States. When the U.S. joined the WTO, it agreed to do so only if the WTO could not overrule US law. This law does not discriminate against any country, it merely requires labeling.
This is not the only major decision of a WTO court that attempts to overturn US law concerning consumer-friendly labeling. Another case involved "dolphin safe" labels on tuna. Congress allows tuna to be labeled "dolphin safe" if it meets specific requirements, but Mexico complained that this discriminates against Mexican tuna because Mexican tuna is not fished in a manner that protects dolphins.