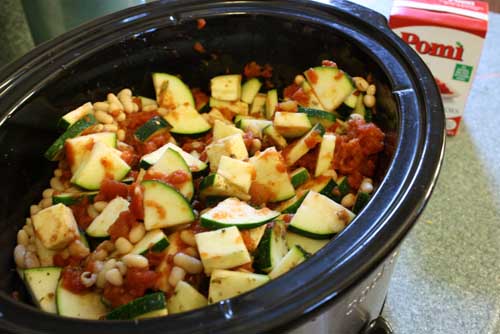 I don't know about you guys, but since learning that canned tomatoes contain BPA, I haven't been buying them. It's sort of put a crimp in my cooking, since tossing in a can of tomatoes was such a nice way to add flavor and nutrition to soups, stews, and sauces.
Luckily, the folks at Pomi were kind enough to educate me about their boxed tomatoes, and I got the chance to try some out in a recipe!

When the folks at Pomi first approached me, I was a little bit torn. Yes, their boxed tomatoes were BPA free, but I also wanted to make certain that the fruit itself was grown sustainably. Here's what they had to say when I inquired about an organic line:
Pomi works in accordance with Consorzio Casalasco del Pomodoro and Consorzio to ensure the highest quality of its products. This means that Consorzio Casalasco del Pomodoro supervises the product step by step, documenting all the cultivation processes, from the seedling to the harvesting and during the delivery and entrance of the product to the plant. Moreover Casalasco undertakes multiresidual analysis, implementing a fit control plan to guarantee a safe product. In order to certify the whole supply-chain tests are made in every processing stage. Besides the analysis provided for by law, Casalasco follows the Rules and Regulations of Integrated Production of the Emilia Romagna Region for the Quality-controlled Production, granting the GMO-free product and the 100% Italian tomatoes, within a Quality System offering the clients and therefore the final consumer, the highest food safety with the highest environmental care.

Boschi (which makes Pomi) is certified as a producer of organic foods in Italy. As mentioned above, Pomi prides itself on the use of seeds in their farms that are not genetically altered.
Not bad, right?
They were kind enough to send me some boxes to try out, and I was impressed to see the ingredient list. Are you ready for this? Here is the ingredient list: tomatoes. That's it!
The tomatoes arrived on the same day that an amazing friend gave me a box of fresh, summer veggies from her parents' farm, so I used those to make a summer stew that came out deliciously!
Up next: The recipe for Low Fat Summer Stew using Pomi's boxed tomatoes!