Plastic might seem like more of a general environmental issue than a food-specific issue, but because of the large amounts of plastics involved in food, from packaging to cooking and storage, our food and drink choices directly relate to our plastic consumption.
The infographic below looks at plastic's impacts and gives tips on how to reduce your plastic consumption (click for the full version)…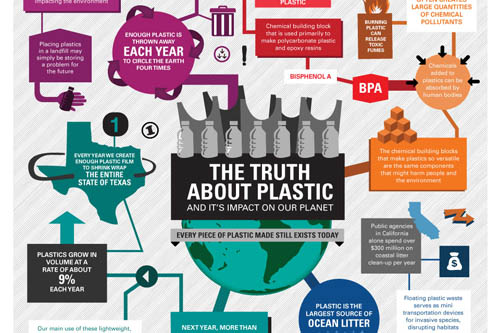 The most powerful tip for reducing the plastics in your life, in my opinion, was to stop buying bottled water. Not only is bottled water a waste of resources (packaging, shipping, energy to bottle, etc), but when we privatize water, we're putting one of our basic needs in the hands of  huge corporations. Bottled water production is bad for communities, and it's usually just glorified tap water anyway.
What's your pet peeve when it comes to plastics? I shared mine, and I'd love to hear yours!
via Reusable Bags