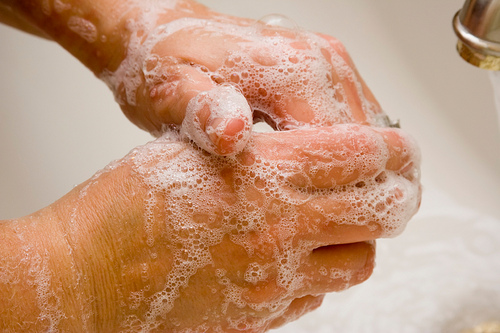 We've covered triclosan a few times on Eat Drink Better (surprised we haven't covered it more, actually). If you are not familiar with this chemical, you should be. It is in thousands of household products (i.e. soap, toothpaste, shampoo, crib liners, water bottles, and deodorant) and also makes it into our food supply through fertilization using sewage sludge. Oh, and it is an identified endocrine disruptor.
While many have raised concerns to the EPA and FDA about triclosan, their concerns have primarily been ignored. In a relatively new book, Organic Manifesto, Maria Rodale writes:
The EPA recently allowed triclosan, the predominant antibacterial agent used in products from shampoo to water bottles to crib liners, to be re-registered… even though the EPA acknowledges that triclosan interacts with androgen and estrogen receptors and affects the thyroid glands in rats. The EPA acknowledges that triclosan is linked to antibiotic resistance, and that it is showing up in fish and drinking water.
Good news from Food & Water Watch is that the EPA has finally published a petition of theirs and Beyond Pesticides' that was submitted almost one year ago.  And it is asking for public comments on it now as well. Food & Water Watch writes: "the EPA has given you and yours the opportunity to speak your mind!"
So, swing on over to the government site where you can express your opinion on this topic and leave a comment today.
Here's more from Food & Water Watch:
EPA will consider the comments and the arguments we make in our petition and ultimately decide whether or not to keep triclosan on the market.  We encourage you to read the petition here.

Even if you're not up for sifting through technical and regulatory language, please take the time to submit a public comment. We are closer than ever to making this ban a reality.
Photo Credit: arlingtonva via flickr (CC license)