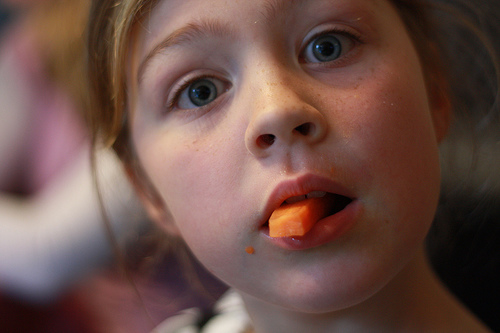 A recent, small-scale study found that 20 percent of the conventional produce that kids eat contains measurable amounts of pesticides.
The study looked at 46 children in Georgia and Washington state, following their fruit and vegetable intake for 2-3 days. Parents provided 239 produce samples for analysis.
A Small But Important Study
Many studies have looked at the pesticide content in food, but this is one of the first to focus specifically on food that kids eat in the amounts that they tend to eat it. Pesticide exposure is especially worrisome when it comes to children, since their developing brains and bodies are more prone to negative health effects ranging from high blood pressure to ADHD.
Among the 14 pesticides that researchers identified were organophosphates, which damage nerve function. In fact, organophosphates may be the culprit behind Gulf War Syndrome. Of course, the amounts found in this study were well below those required to induce paralysis and death.
This is only a small study, but it's still cause for some concern. The results definitely call for more, larger-scale studies on this topic. In the meantime, if you're concerned with pesticides in your kids' diets, your best bet is to stick to organic, especially when it comes to the EWG Dirty Dozen.
[Image Credit: Creative Commons photo by thevancats]