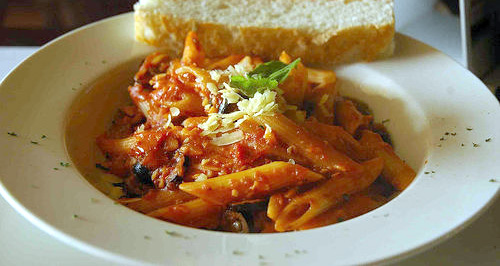 This is my all-time favorite pasta sauce recipe.
Putta is the Italian word for prostitute, and this pasta sauce was named for them. Basically, when the prostitutes finished "working" in the early morning hours, they would go to the restaurants or trattorias to have pasta. The sauce was usually a little of this and that: anything that was left over from the regular customers.
Peter's Pasta Puttenesca
Large can of crushed tomatoes (around 22-28oz will do it)
Small can of tomato paste
1/4 cup hearty red wine (burgundy, chianti or merlot will work)
3T virgin olive oil
1 large onion (yellow or red )
2T capers
12 green or black olives cut in half
4-5 large cloves of garlic – rough cut
1/2 green or red pepper diced
Mushroom are optional –
I like some anchovies in my puttanesca, but these are optional as well
Dried Italian spices to taste: oregano, basil, thyme and black pepper
In a good sauce pan:
Heat a medium sized sauce pan and when the bottom is hot add the oil.
Add the onions and stir around until the onion becomes translucent.
Add the garlic and stir together.
Add the peppers and stir together with the onions until soft.
Add the crushed tomato and the tomato paste.
Stir all this together and then add the wine. If the mixture is too thick for your taste, just add more wine until you get the desired texture.
Cook at a low simmer for about 15-20 minutes and then add the capers and olives.
Simmer for another 10 minutes.
Add the basil (about 1/4t), the oregano (about 1/4t) and the thyme (about 1/4t).
This should all simmer together for another 20 minutes. If you are going to add mushroom or anchovies, do it at the end and perhaps add another 10 minutes cooking time.
This pasta sauce should be served over a hearty linguine or spaghetti, not thin or angel hair. You can also use ziti or penne. Serve with a crusty Italian bread and a good Chianti, and you have a great meal.
Image Credit: Creative Commons photo by dboy